Marston's sees sales return to 99pc of pre-Covid levels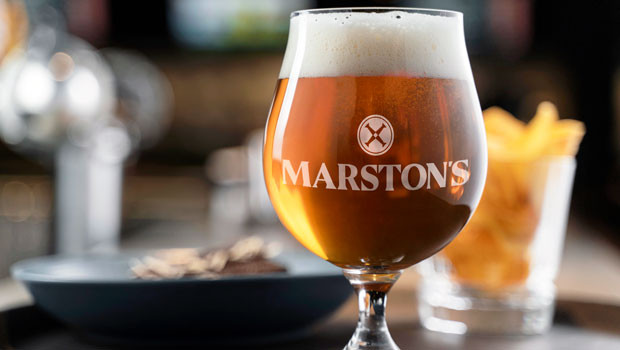 Pub operator Marston's said on Tuesday that its full-year like-for-like sales were 99% of the pre-Covid comparator in 2019, despite a disrupted Christmas period last year amid the emergence of the highly contagious 'Omicron' variant.
The London-listed firm said drink sales continued to outperform food sales in the 52 weeks ended 1 October, demonstrating the trading resilience of its primarily 'community pub' estate.
It said the final 10 weeks of the financial year saw like-for-like sales 3% higher than 2019, and 4% up on the prior year.
Pub operating profit rocketed to £115.4m from £5.7m year-on-year, while the company's share of the profits from the Carlsberg Marston's Brewing Company (CMBC) came in at £3.3m, swinging from a loss of £14.5m a year ago.
Looking at its underlying performance, Marston's reported total revenue of £799.6m, up from £401.7m, while it swung to a profit before tax of £37.7m from a loss of £101.3m.
Earnings per share came in at 4.3p, compared to losses of 13.6p per share in the 2021 financial period.
Marston's net asset value per share improved to 102p at the end of the 2022 financial year, up from 64p at the end of the 2021 period.
Looking ahead, Marston's said it was "well-positioned" to meet "challenging" market conditions, adding that its current trading remained positive as like-for-like sales in the last eight weeks were 6.8% higher than last year.
The board said the company's "well-positioned, predominantly freehold" pub estate had limited exposure to city centres, adding that the firm was making continued investment in repositioning the estate.
It said it was managing the inflationary challenges within its control, offsetting costs through efficiencies and pricing strategies.
The first winter FIFA World Cup and the first Christmas period without restrictions in three years was also taking place, with the company noting that for the first two England matches, like-for-like drink sales were 50% higher than in 2021.
"I am pleased to report a strong performance over the last 12 months evidenced by a doubling of revenue growth, a return to profit and steady progress with our debt reduction strategy," said chief executive officer Andrew Andrea.
"We have a clear and focused strategy which provides a strong platform for future growth, and it is encouraging to see the actions and initiatives which we have undertaken in 2022 beginning to deliver positive results.
"Demand for our predominantly community-based pubs continues to be encouraging despite ongoing macro uncertainty and our estate is well-placed to benefit from changing patterns in consumer behaviour."
Andrea said the firm was managing cost inflation "well", and remained confident that its commitment to continue to reduce debt and return sales back to £1bn would drive both net asset value and shareholder value.
"Current trading to the end of November has been positive with encouraging levels of Christmas bookings as we look forward to the first restriction-free festive period in three years.
"Additionally, the World Cup has benefited trading, delivering like-for-like drink sales of 50% for the home team games.
"Whilst uncertainty remains, Marston's remains well-financed and in great shape to weather the challenges ahead with the right formula, the right strategy and the right team to continue to make progress and deliver shareholder value."
At 0815 GMT, shares in Marston's were up 2% at 39.47p.
Reporting by Josh White for Sharecast.com.