Lufthansa in advanced talks on €9bn Covid state bailout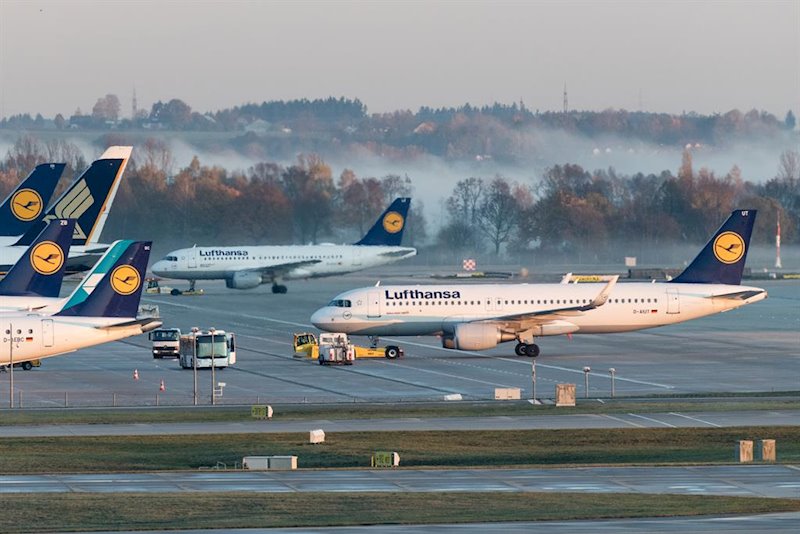 Lufthansa said it was in advanced talks with the German government over a €9bn £8.07bn Covid-19 bailout that would give the state 20% in of the cash-strapped airline.
The flagship carrier said the deal also included a convertible bond is to be agreed which can be exchanged for a further 5% plus one share at nominal value in the event of a takeover offer by a third party.
Negotiations with Germany's WSF economic stabilisation earmarked €3bn as a loan from the state-backed KfW bank, Lufthansa said on Thursday. The deal will also have to be approved by the European Commission.
Conditions are likely to involve waiver of future dividend payments and restrictions on management pay. Two seats on the supervisory board are to be filled in agreement with the federal government, it added.
Lufthansa Group is to hold an extraordinary general meeting to decide on the capital increase. The package would need clearance from the WSF committee as well as the company's executive and supervisory boards, plus European Commission approval.
"Deutsche Lufthansa AG is continuing its talks with the WSF with the aim of reaching a conclusion promptly in order to secure the company's solvency in the long term," the company said.
Airlines around the world have turned to governments for handouts as the coronavirus pandemic and associated lockdowns hammered passenger travel. With the majority of fleets grounded, companies are burning through cash reserves and laying off staff.
Franco-Dutch group Air France-KLM and US carriers American Airlines, United Airlines and Delta Air Lines have all been recipients of conditional state aid.
Air France On Wednesday accelerated plans to phase out its Airbus A380 fleet and will retire the aircraft immediately rather than in 2022 as previously scheduled. It grounded the planes on March 16 as the pandemic began to hit operations.
The airline said it would book a €500m writedown in the second quarter to cover the phasing out of the nine planes. In December it said it was ordering another 10 A350-900 to replace the A380s.