Lloyds annual profit falls amid challenging conditions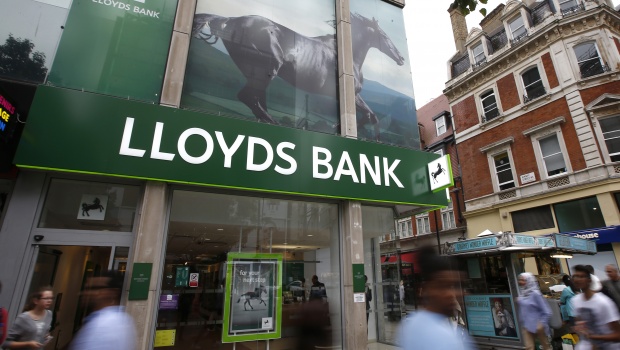 Lloyds Banking Group's underlying profit fell 7% last year as revenue declined amid what the bank described as challenging conditions.
Underlying profit for the year to the end of December declined to £7.5bn from £8.1bn as net income fell 4% to £17.1bn.
Pretax profit dropped by 26% to £4.4bn as the bank paid out £2.5bn for payment protection insurance (PPI). Analysts had on average expected pretax profit of £4.5bn.
Britain's biggest retail bank said it expected its net interest margin would shrink in 2020 to 2.75-2.8%. In 2019 the margin was squeezed to 2.88% from 2.93% because of pressure on mortgage profitability caused by intense competition.
Lloyds increased its annual dividend by 5% to 3.37p a share and said it would continue to target a "progressive and sustainable" payout to shareholders. The bank also announce a near-£3m reduction in its chief executive's maximum annual pay.
The FTSE 100 bank's shares rose 3.6% to 57.77p at 089:26 GMT.
Underlying profit fell despite a 4% drop in operating costs to £7.9bn as income declined and loan impairments rose 38% to £1.3bn. Loans to customers fell £4bn to £440bn as the bank reduced its closed mortgage book and loans to midsize and global companies.
At the pretax level the charge for compensating customers and processing claims from the PPI scandal was unchanged at £2.5bn from the figure announced for the first nine months of the year. The charge jumped from £750m a year earlier as people rushed to meet the August deadline for claims.
António Horta-Osório, Lloyds chief executive, said: "In 2019 the group has continued to make significant strategic progress while delivering solid financial results in a challenging external market. Underlying performance was resilient, reflecting the health of our customer franchise and the strength of the business model."
Horta-Osório said Lloyds' performance was closely linked to the health of the UK economy. After the economy showed resilience during political and economic uncertainty in 2019 a clearer sense of direction following the Conservatives' election victory and Brexit has led to some signs of an improving outlook, he said.
Lloyds also announced a new remuneration regime with more fixed pay, lower share-based payouts and more discretion based on annual performance. The bank said the changed plan would reduce Horta-Osório's maximum annual pay to £7m from £9.8m in 2020 including pension changes already announced.
Horta-Osorio, Britain's best-paid banking boss, has been criticised by Lloyds' staff union and MPs for the size of his pay packet. In 2019 his pay fell to £4.7m from £6.5m.