Kingfisher lifts H2 guidance, divi as interims soar on DIY boom
Company unveils £300m share buyback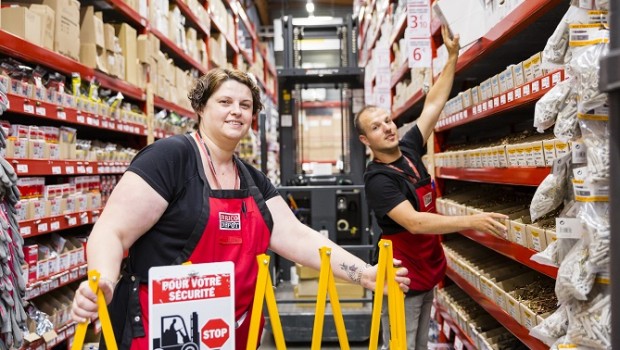 Anglo-French DIY group Kingfisher lifted second-half sales guidance as it reported a surge in interim profits and announced a £300m share buyback as the home improvement boom continued.
The B&Q and Castorama owner posted a 70.6% rise in pre-tax profits to £677m for the six months to July 31. Sales rose 20% to £7.1bn. Like-for-like (LFL) sales in the second quarter fell 0.8% due to unseasonal weather in the UK and France. Third quarter LFL sales were down 0.6% to September 18.
Adjusted pre-tax profit came in ahead of expectations £657m, hitting £669m, up 61.6%. People locked down during the Covid-19 pandemic turned to DIY to pass the time spent at home due to travel restrictions. A dividend of 3.8p a share was declared, up 38.2%.
Second-half LFL sales expectations were increased to -7% to -3% from -15% to -5%, but still ahead of pre-pandemic 2019 levels and guided for annual adjusted pre-tax profits of £910m to £950m.
GARNIER SAYS DIY BOOM TO CONTINUE
The company, which also owns Screwfix in the UK and Brico Depot in France, said its performance was particularly strong in the UK and Ireland, France, Iberia and Romania. However Poland was hit by coronavirus-related temporary store closures in the first quarter.
"Our industry is benefiting from new trends that we believe will be supportive over the long term," said Kingfisher chief executive Thierry Garnier.
"These include people spending more time working from home, the emergence of a new generation of DIY'ers, the need for greener homes, and a strong housing market. Kingfisher is well placed to capitalise on these trends and deliver sustained outperformance."
Garnier warned that Kingfisher was facing "significant operational pressures arising due to the pandemic, including product supply and availability, shipping and logistics, and cost price inflation".
"The key risks around stock availability continue to be driven by polarised demand within some of our categories, in particular building materials and outdoor ranges. This has created challenges for suppliers in keeping up with high order levels, while managing extended raw material lead times."
Garnier said the pandemic and Asian port congestion "continue to place a considerable strain ... on the international logistics infrastructure", especially the cost and availability of shipping containers with these pressures expected to continue through the second half of the year, and into 2022.
However, he added that that the company had improved stock forecasting processes and placing orders significantly ahead of peak trading periods.
"Overall, we are still below target product availability levels in some categories, and this remains a key area of focus for the business. We expect to continue our rebuild of inventory levels in H2 ahead of peak trading periods. As a result, we expect inventory levels to be higher, year on year, at the end of January 2022."
Interactive investor head of markets Richard Hunter said "the results are coming up against increasingly tough comparatives, as evidenced by levels of current trading".
"In terms of these numbers, the first quarter was significantly stronger than the second, and the initial weeks of the third quarter are also suffering from slower growth," he said.
"In addition, Kingfisher is in the centre of the current supply chain blockages, impacting product supply and availability, and cost inflation which is affecting many sectors at present. More broadly, the lingering effects of the pandemic in many of its regions add an element of caution to its outlook."