Kier says interim figures will beat expectations as sale hopes rise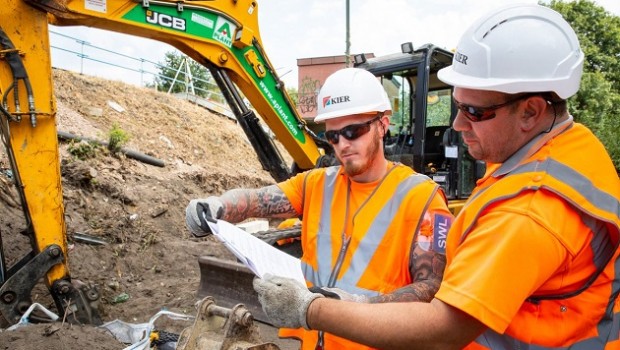 Keir Group expects to post half-year numbers slightly ahead of expectations, the construction and infrastructure specialist said on Tuesday, as speculation over the future of its loss-making housebuilding unit continued.
The firm said it had performed well in the six months to 31 December, with an improved site productivity, despite the introduction of fresh Covid-19 restrictions. It was awarded places on long-term frameworks worth up to £11bn across a number of sectors, including health, education and justice.
As a result, the group is now predicting half-year results "slightly above" the board's expectations.
It said: "[Kier] anticipates that a reduction in adjusted items in the period will generate a statutory result materially better than the corresponding period last year."
The update came as it was reported that Keir and Guy Hands' Terra Firma Capital Partners were close to entering exclusive talks over the possible £110m sale of Kier Living. Sky News said a decision about a sale could be made "as soon as this week".
Kier did not comment on the report, other than to note: "The group continues to make progress with the divestment of Kier Living and remains focussed on driving an improvement in cash flows through a disciplined approach to appropriate capital allocation. In addition, the group is continuing to consider a potential equity raise."
Looking ahead, Kier said it had won an eight-year maintenance contract worth around £200m with Transport for London in the first few weeks of the second half.
"The group continues to win high quality work in our chosen markets, resulting in a strong order book with slightly above year-end levels, despite the difficult trading environment due to the pandemic.
"This order book, combined with our project management expertise, longstanding customer relationships and recent government announcements of increased spending on national infrastructure, gives us confidence in the outlook for the group."
Commenting on the speculation surround Kier Living, Andrew Nussey, analyst at Peel Hunt, said a £110m value would be "consistent with the £11om adjusted value at 30 June". But he added net proceeds would likely be reduced "by a requirement to top up the pension scheme, and a reduction in the early payment facility".
As at 1100 GMT, shares in Kier were ahead 11%. at 83.49p.