Kaz maintains production guidance, though Covid risks linger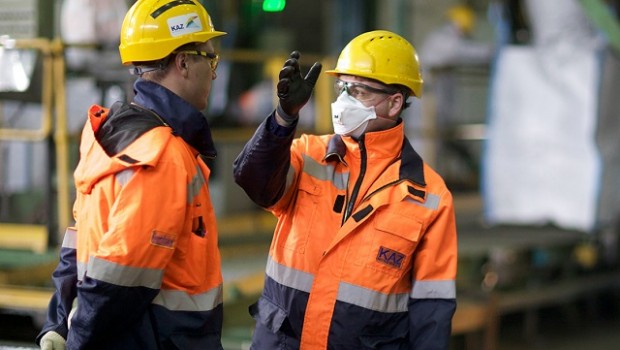 Kaz Minerals reported first half copper production of 153.8 kt on Thursday, up 4% year-on-year, which it said was driven by high ore throughput and improved grades at Bozshakol.
The FTSE 250 company said gold production was ahead 25% to 109.7 koz, due to higher processing volumes and grades at Bozshakol.
All of its metals were currently on track to achieve full-year production guidance, although Covid-19 risks were elevated in the second half.
At Aktogay, Kaz reported first half copper production1 of 67.6 kt, down from 74.1 kt a year earlier, as "stronger than planned" sulphide copper grades of 0.56% were offset by temporarily lower recovery rates and ore throughput in the first quarter.
Second quarter copper production at Aktogay increased 3% to 34.3 kt, due to higher recovery rates and ore throughput following scheduled maintenance in January.
Aktogay was on track for its full-year copper production guidance of between 120 and 130 kt, with lower grades expected in the second half.
At Bozshakol, copper production increased 28% in the first half to 60.4 kt, with higher grades and an 18% increase in ore throughput, due to the deferral of maintenance and the suspension of the clay plant in the first half of 2019.
First half gold production was 40% higher at 83.3 koz, which also benefited from higher processing volumes and grades.
Full year copper and gold guidance at Bozshakol was unchanged at between 110 and 120 kt, and 140 and 150 koz, with scheduled maintenance in the second half.
In the East Region and at Bozymchak, Kaz reported copper production of 25.8 kt in the first half, down from 26.4 kt a year earlier, with increased output in the second quarter of 14 kt as the Nikolayevsky concentrator operated at full capacity, following planned idling in January.
Gold production there was 25.8 koz, slipping from 26.4 koz year-on-year, with higher output in the second quarter of 13.3 koz also benefiting from the increased processing at Nikolayevsky.
Zinc in concentrate output was 23.8 kt in the first half, up from 18.4 kt year-on-year, due to higher grades of 2.62%, which was up from 2.11%.
Kaz said it was maintaining its full-year guidance for all metals.
The company said there had been "no material disruption" to operations or sales from the Covid-19 pandemic to date.
However, it noted that the Kazakhstan government imposed a second phase of quarantine measures from 5 July, reflecting heightened risk in the country, and to its operations for the second half.
Ongoing restrictions on the movement of staff and contractors, and deferred maintenance, could impact production and unit costs in the second half, the board warned.
"In the second quarter of 2020 Kaz Minerals grew copper production across all of its divisions and delivered a 5% increase in group output," said chief executive officer Andrew Southam.
"This is an excellent performance in a challenging operating environment and reflects the dedication and resilience of our employees.
"We are entering the second half of the year with an elevated level of Covid-19 risk, however production of all metals is currently on track to achieve our full year targets."
At 0845 BST, shares in Kaz Minerals were down 2.44% at 544.6p.