JD Wetherspoon to nudge up prices as costs rise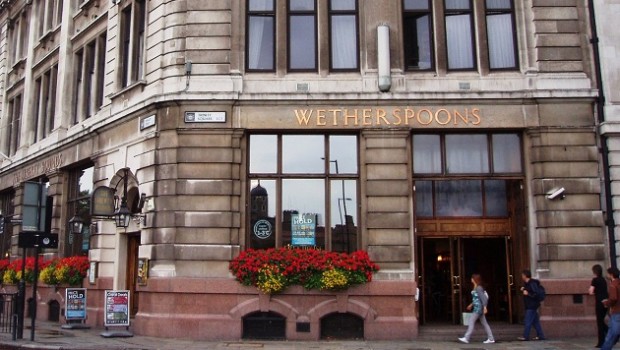 JD Wetherspoon reported solid annual results and boss Tim Martin took time out of his traditional pro-Brexit diatribe to say that 4.0% growth would be needed in the present year to maintain profits.
The pub group generated £1.69bn of revenue in the 52 weeks to 29 July, up 4.2% if excluding last year's 53rd week. Like-for-like-sales grew 5.0%, which was slightly short of the 5.2% reported for at 49 weeks, which the market expected to be maintained.
Profit before tax rose 6.2% to £107.2m, which was better than average analysts estimates that were looking for nearer £106m, with ongoing share buyback helping earnings per share rise 14.5% to 79.2p versus expectations of 77.2p.
Profits were helped by £2.9m of property gains as 18 pubs were sold or closed, alongside the six pubs opened during the year, to leave a trading estate of 883 pubs at the financial year end.
As it has been for several years, the dividend was topped up to at 12p.
Martin said that LFL sales in the first six weeks of the new financial year to 9 September were up 5.5%.
"The company has had a reasonable start to the financial year, but taxes, labour and interest costs are expected to be higher than those of last year, so we estimate that like-for-like sales growth of about 4.0% will be required for the company to match last year's record profits," he said. He said this meant the price of its food and drinks "may have to go up a bit", he told the BBC.
Around £20m was spent last year on increased pay for bar staff, with 'Spoons planning to invest a further £27m from November this year. Current intentions are to open about 5-10 pubs in the year ending July 2019, with the average development cost for a new pub, excluding the cost of freeholds, was £2.8m, compared with £2.3m a year ago.
Martin's customary pro-Brexit rant included pushing for rejection of Theresa May's Chequers deal and slashing "protectionist EU import taxes" and for parliament to not impose their own tariffs, a line he has pursued in January's first-quarter update, March's interim results and May's trading statement.
MARKET REACTION & ANALYSIS
Shares in the company struggled for direction in early trading on Friday, initially rising then falling almost 2% to 1,258p by mid afternoon.
A rise in prices "would have an impact", said analyst Neil Wilson at Markets.com, but he said the chain's customer bases were "loyal because it's cheaper than anywhere else and that won't change".
He said growth cooled off over the hot summer due to the impact from the hot weather, "as JDW pubs tend to lack the outdoor spaces customers seek when it's sunny, while arguably the biggest hit came from not showing the World Cup, which has been noted at past tournaments", meaning rivals such as Greene King reaped the rewards of England's run in the tournament but Spoons missed out to a degree.
He felt it would be "churlish" to focus on the final quarter as the results show continued positive momentum over the year and record profits. "Underlying sales growth is very strong and investors should not be distracted by the short-term seasonal effects."
Broker Liberum said the results were slightly ahead of expectations driven by a better that expected margin, property gains and lower tax rate, expecting modest PBT increases of around 2% to forecasts for FY19E, which currently stand at PBT £106.1m and EPS of 75.4p.
With the shares trading towards the top end of the peer group valuation multiples, Liberum analysts noted: "JDW's margins are the lowest in the sector but LFL is the highest, which combined with disposal program and share buyback has helped to drive adj EPS growth of 14.5%. We remain concerned about its ability to keep this momentum and rate the stock 'hold'."
For Canaccord, the prelims were "a little ahead" of forecasts but the outlook was seen as cautious.
"Wetherspoon's share price has been caught in a tight trading range for the last 12 months and we do not see anything today for it to break out (either way)," said the broker, retain its 'hold' recommendation and 1300p share price target.
They noted Wetherspoon trades on a P/E of 17.0x for FY19E falling to 15.9x for FY19E, multiples that are above five- and 10-year averages of 14.2x and 14.1x for Wetherspoon. "It remains arguably the best pubco in the market but conditions are tougher and sector valuations are lower."