ICG assets under management rise as it maintains 'strong' pipeline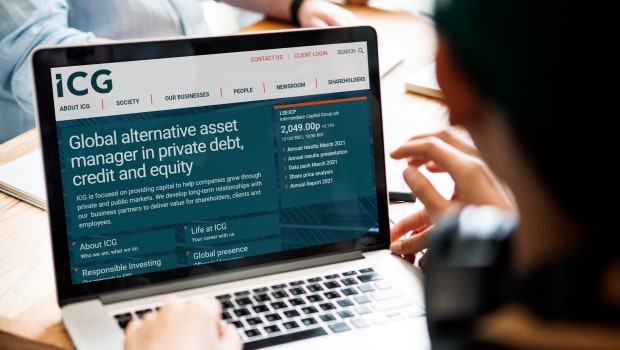 Intermediate Capital Group reported third-party assets under management of $67.2bn at the end of its third quarter on 31 December - an increase of 3% over the quarter and 23% for the last 12 months.
The FTSE 100 company said third-party fee-earning assets under management grew 5% during the quarter and 30% in the last 12 months, ending the period at $58.2bn.
It reported high levels of deployment and realisations across its asset classes, with a strong pipeline.
ICG said its funds were performing well, including a number of successful realisations leading to "attractive gains" for its clients.
It raised $4.3bn during the quarter, taking total fundraising to $18.1bn in the nine months since 31 March.
The Senior Debt Partners V and LP Secondaries I funds were launched post-period end in January, with preparations for the Sale and Leaseback II fund now underway.
Looking at the balance sheet, ICG reported total available liquidity of £746.3m at 31 December, with a €500m inaugural sustainability-linked bond successfully priced in January, providing further financial flexibility.
"Positive momentum continued across the whole of the ICG platform during the quarter," said chief executive and investment officer Benoît Durteste.
"We saw significant client demand for our established and new strategies, as well as high levels of deployment and realisations.
"We continue to hire selectively to help drive future growth, for example in real estate, and funds in all asset classes are performing well."
Durteste said the company's outlook remained "very positive", with a "strong pipeline" of opportunities to execute.
"Strategically we are well placed to continue to grow - we have a powerful local sourcing network, a focus on the mid-market across a wide range of geographies, and a diversified product offering of successful investment strategies that enable us to navigate dynamic market conditions.
"These qualities help underpin my expectation that the growing demand from our clients will continue, supported by enduring structural tailwinds.
"Our successful execution of this opportunity is founded on our exceptional people, and I look forward to discussing this important aspect of our business in more detail as part of our shareholder seminar later today."
At 0949 GMT, shares in Intermediate Capital Group were up 0.08% at 1,907.5p.