Housebuilders under pressure as placings suggest market top, but Jefferies disagrees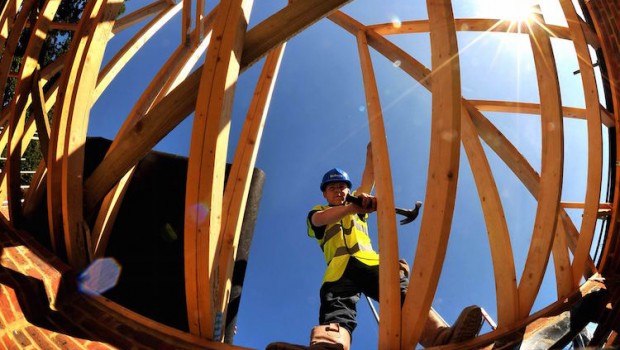 Housebuilders were under the cosh on Tuesday, weighed down by a series of share placings in the sector, a downbeat note from Bank of America Merrill Lynch and a report suggesting that smaller housebuilders are having difficulty accessing finance.
Redrow was the biggest faller after The Steve Morgan Foundation - a charitable trust founded by the housebuilder's chairman - and Morgan's investment vehicle, Bridgemere Securities, sold 25.9m existing ordinary shares at 590p each, representing around 7% of the issued share capital.
Cairn Homes was also in the red as it said its three founders are looking to sell around 15.65m shares in the company, or a 2.1% stake. Chief executive Michael Stanley and his brother Kevin - the chief commercial officer - along with co-founder Alan McIntosh, have appointed Goodbody as sole bookrunner.
Meanwhile last week saw Tony Pidgley, the founder and chairman of Berkeley Group, sell around 750,000 shares in the housebuilder, pocketing £26.8m.
Traders said the placings have raised concerns that this might be the market top for the sector, but Jefferies begged to differ.
"When Tony Pidgley and Steve Morgan sell shares in the companies they founded, investors take notice and ask if the silverback alpha males in the sector are calling the top of the market. We do not think so," it said.
It pointed out that even after his share sale, Pidgley remains the fourth largest shareholder in Berkeley, with around 4,750,000 shares and 3,350,000 unvested options as at 30 April 2017. "In our view Mr Pidgley still has a lot of skin in the game."
Meanwhile, Steven Morgan and his closely associated vehicles will still hold around 33% of Redrow and remain the biggest shareholders. "Redrow's founder therefore also has plenty of skin in the game. (Although not personally as much as he could have, having put just over 25% of his holding into a charitable trust)," Jefferies said.
The bank, which recommended that investors take advantage of any weakness in the sector to add to their holdings, said it reckons the UK will continue to experience a chronic under supply of housing and that this, along with an existing homes market in paralysis and the stimulus of Help to Buy, places the UK new build housing market in a very strong position.
In addition, it pointed out that Bovis and Redrow issued "clear and upbeat" medium term guidance in their latest results, enhancing its outlook for both companies out to 2020.
"We appreciate that results are backward looking and that medium term guidance is aspirational rather than hard fact, but Redrow had a record forward order book up 14% at £1.1bn. This suggests to us that performance is still climbing rather than reaching a plateau."
The latest report from the Federation of Master Builders was also said to be putting pressure on the sector on Tuesday, as it found that 54% of small and medium-sized developers said access to finance was major barrier to their ability to build more homes, up from 50% in 2106.
In addition, a downbeat note from Bank of America Merrill Lynch did nothing to lift the mood.
"The outlook for the UK house building sector is not without risk at this stage of the cycle; there is debate over the long term future of the Help to Buy scheme, the biggest crutch under the sector, and the direction of interest rates as well as weakening consumer confidence," it said.
"Even if the UK avoids a recession, arguably the sector is trading at full multiples. However, in the absence of a recession which seems a likely outcome, the evaporation of house price inflation is likely to nibble away at confidence. We maintain our cautious sector stance, but recognise that high yields remain an attraction."
At 0910 BST, Taylor Wimpey was down 3.3% to 189.20p, Barratt was off 3.1% to 587.50p, Persimmon was down 2.6% to 2,489p, Redrow was down 8.4% to 579.50p and Bellway was off 2.7% to 3,078p.