Hikma posts decent results as it signs 'Ryaltris' deal with Glenmark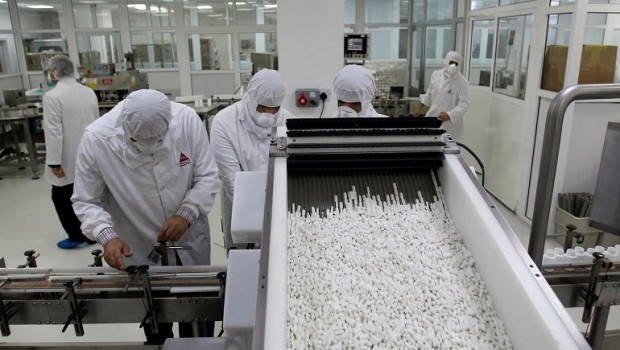 Hikma Pharmaceuticals reported a 6% improvement in group core revenue in its preliminary results on Thursday, to $2.2bn (£1.7bn).
The FTSE 100 company said group core operating profit was up 10% for the year ended 31 December at $508m, while core basic earnings per share were ahead 9% at 150.4 US cents.
On a reported basis, group revenue was 7% higher at $2.21bn, with group operating profit surging 33% to $493m.
The firm's basic earnings per share were 200.8 cents, up 72%, with cash flow from operating activities rising 10% to $472m.
Hikma narrowed its net debt to $242m, and maintained its low leverage with the net debt to core EBITDA ratio standing at 0.4x.
The board confirmed a full-year dividend of 44 cents per share, up from 38 cents in 2018.
On the operational front, Hikma said its injectables core revenue was 7% higher, driven by strong demand for its broad portfolio and recent launches.
Generics core operating profit was ahead 33%, which the board said reflected "excellent" commercial execution and reduced costs.
Branded core revenue was 8% higher, which was put down to strong demand across most of the company's Middle East and North Africa (MENA) markets.
A total of 108 new products were launched across all markets, expanding the company's global product portfolio, while 18 licensing agreements were signed for the United States and MENA.
Hikma also noted the completion of a repeat clinical endpoint study for its generic version of 'Advair Diskus', as well as the long-term supply agreement with Civica Rx to assist in the delivery of essential medicines in short supply to US hospitals.
"2019 was another very good year for Hikma, driven by strong demand for our broad product portfolio, excellent commercial execution and increased operational efficiencies across the organisation," said chief executive officer Siggi Olafsson.
"During a challenging year for the industry, we delivered strong financial performance and made important progress on our strategic objectives, including strengthening our operations, building our portfolio and pipeline, forming new partnerships, developing our people and attracting new talent across the group."
"These actions were reflected in our financial results in 2019, with each of our three businesses delivering good organic growth in revenue and operating profit."
Olafsson said he was "proud" of what the company's teams had achieved.
"We remain highly focussed on executing our strategic priorities, which will drive further growth in 2020 and beyond, creating sustainable value for all our stakeholders."
In a separate announcement on Thursday morning, Hikma announced that it has signed an exclusive US license agreement to commercialise 'Ryaltris', or olopatadine hydrochloride and mometasone furoate nasal spray, which is an investigational fixed-dose combination nasal spray for the treatment of seasonal allergic rhinitis (SAR), with Glenmark Specialty.
The company said that under the agreement, Glenmark would be responsible for the continued development and regulatory approval of Ryaltris by the US Food and Drug Administration (FDA).
Hikma, meanwhile, would be responsible for the commercialisation of Ryaltris in the US following approval.
It would also be able to produce the product using its nasal manufacturing capabilities in Ohio.
Hikma said it would provide Glenmark with an upfront payment, regulatory approval and commercial milestone payments as well as royalties.
"We are pleased to form this partnership with Glenmark, which builds on our market-leading position in nasal allergy sprays and advances our objective of growing our specialty business in the US," said Hikma Generics president Brian Hoffmann.
"Hikma is the largest supplier of generic nasal sprays in the US.
"Adding Ryaltris is a significant step forward in expanding our US nasal spray leadership into branded medicines."
Hoffman said that importantly, it would allow the firm to leverage its existing specialty salesforce already calling on doctors with its specialty portfolio, and to potentially leverage its nasal spray manufacturing capabilities in Columbus, Ohio.
"We look forward to bringing this important new treatment option to millions of US patients."
Glenn Saldanha, chairman and managing director of Glenmark Pharmaceuticals, said the company was "happy" to partner with Hikma in the US, with Ryaltris being a "perfect strategic fit" in Hikma's near-term plan to build a branded nasal spray portfolio.
"This partnership gives us an opportunity to tap into the largest pharmaceutical market in the world.
"The step is aligned with our vision to make Ryaltris the first global brand of Glenmark by launching it in several markets across the globe."
Hikma said Glenmark had studied Ryaltris in seven clinical trials involving more than 4,000 adult and adolescent patients of at least 12 years old.
The FDA issued a complete response letter to Glenmark regarding the new drug application (NDA) for Ryaltris in June, citing deficiencies around the proposed manufacturing facility.
It said the complete response letter did not specify any deficiencies with the clinical data supporting the new drug application for Ryaltris.