Halfords cautious on outlook despite strong bike sales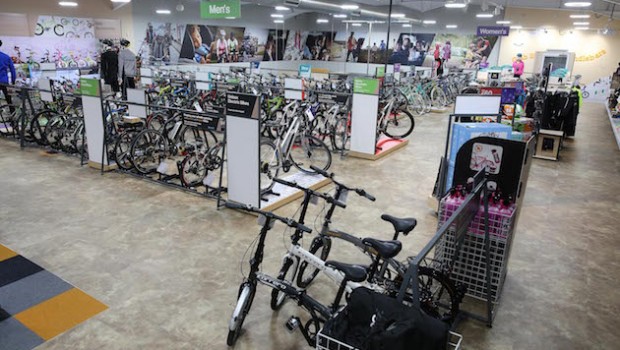 Halfords said it was cautious about its outlook as the car accessories and bicycle retailer reported better-than-expected recent trading based on strong bike sales.
Underlying pretax profit for the year to 3 April fell to £55.9m from £58.8m a year earlier as revenue edged up 0.3% to £1.16bn. Retail revenue fell 2.7% with good bike sales failing to offset tough trading for car products.
Sales in the 13 weeks to 3 July fell 2.8% from a year earlier and 6.5% like-for-like, which Halfords said was much better than predicted in late March and an improvement on the 23% like-for-like drop in the four weeks to 1 May. Bike sales rose 57% as people bought bikes to avoid public transport and get out during the warm weather. Bike maintenance revenue increased 42% as households got their old bikes in shape.
Motoring revenue fell 45.4% in the 13 weeks to 3 July as car journeys plunged during the Covid-19 lockdown. Halfords said sales were picking up as restrictions eased with high demand for batteries.
Despite better-than-expected trading Halfords withdrew financial guidance and instead set out three scenarios. These showed revenue declining 9.5%, 7.5% or 5% in the current year. The company's shares fell 5.4% to 167.4p at 10:07 BST.
Halfords' shares have more than tripled since mid-March as investors have bet that demand for bikes would transform its prospects as commuters opt for two wheels instead of using crowded public transport. The government has announced a range of measures such as extra bike lanes and vouchers for bike repairs to encourage cycling in the wake of the Covid-19 crisis.
The company said it expected demand for bikes and maintenance to stay strong and that it had seen a pickup in motor products as people make improvements to cars for commuting. But Halfords said the outlook was uncertain and that bikes were not as profitable as motor sales, traditionally its biggest business.
"Although trading has been ahead of the scenario we shared on 25 March 2020, we remain cautious on the months ahead," Halfords said. "It seems likely that our mix will remain biased towards cycling and away from motoring in the short term. Although this tailwind is welcome, cycling is a lower margin, more capital-intensive segment than motoring and, as such, the incremental benefit to group profit will be lower."
Russ Mould, investment director at AJ Bell, said: "No matter how hard it tries, Halfords always struggles to convince the market that it is capable of doing well. As a retailer in demand during lockdown, Halfords should be feeling confident about its near-term and medium-term prospects. However, failing to provide earnings guidance sends a weak signal."