Grocery volumes ease as shoppers look to manage spending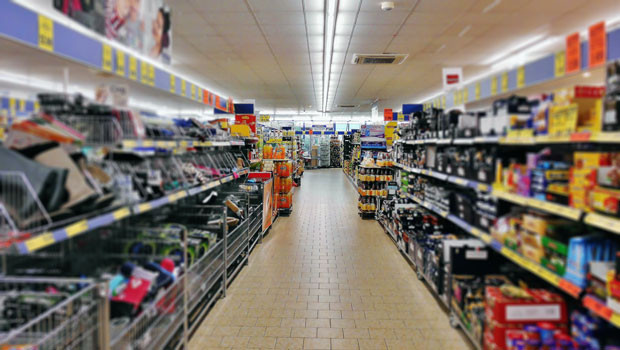 Grocery volumes eased in June, industry data showed on Tuesday, as soaring inflation and the rising cost of living weighed heavily.
According to the latest data from NielsenIQ, total till grocery sales at UK supermarkets rose 1.5% in the four weeks to 18 June, helped in part by the warm weather and Platinum Jubilee celebrations.
Volumes sales, however, fell 5.5% in the same period, as shoppers looked to manage their basket spend. The data also suggested that shoppers were seeking out cheaper alternatives, with sales of frozen poultry up 12%, dry pasta ahead 31% and canned meat up 9%.
In contrast, sales of beers, wine and spirits fell 9.7%, while general merchandise eased 6.1% as discretionary spending was reduced.
Mike Watkins, NielsenIQ's UK head of retailer and business insight, said: "Shoppers are starting to make different choices in how to compensate for the rising cost of living. For some households the way to save money is to buy cheaper products.
"For one in four households, this goes further and includes monitoring the overall cost of their shopping basket. For the 15% of households who now consider themselves to be 'strugglers', almost a quarter of this cohort will stop buying certain products altogether."
Among individual grocers, Tesco - the UK's largest supermarket - saw sales rise 0.4% year-on-year in the 12 weeks to 18 June. Discounters Aldi and Lidl reported larger hikes of 5.3% and 12.1% respectively, while at Iceland sales rose 1.3%.
Marks & Spencer, boosted by the Jubilee celebrations, reported a 3.6% jump.
Other supermarkets reported falls, however. Sales fell 2.4% at Asda, 2.3% at J Sainsbury and 6.3% at Wm Morrison. Ocado Group reported a 6.4% decline, with overall online sales down 12% in the last four weeks.