Government introduces price floor on energy windfall tax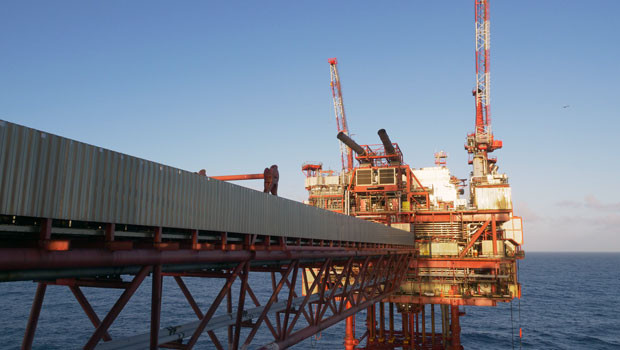 A windfall tax on excessive oil and gas profits will be suspended should energy prices fall, the government confirmed on Friday.
Oil and gas prices soared last year after Russia invaded Ukraine, leading to both sharply higher household energy and record profits for energy firms.
In response, the government introduced the Energy Profits Levy, which put a marginal tax rate of 75% on North Sea oil and gas production. The tax has raised £2.8bn to date, the government said.
But with energy prices now well off last year's highs, a number of producers have become increasingly vocal in their criticism of the levy.
In January, Harbour Energy - the largest North Sea oil and gas producer - said it was reviewing operations because of the windfall tax, and is now looking to diversify away from the UK.
The government has therefore confirmed that while the levy will remain in place until March 2028, as originally planned, it will be suspended if average oil and gas prices fall to, or below, a set level for two consecutive quarters. The levels are $71.40 per barrel for oil, and 54p per therm for gas.
Should that happen, the tax rate would revert to 40%.
Benchmark Brent crude is currently trading at $76.22 per barrel, while a therm of gas is around 60p, well off highs of around $130 and 600p respectively seen last summer.
Gareth Davies, Exchequer secretary to the Treasury, said it was "important that we secure investment in our own domestic supply, protecting the tens of thousands of British jobs that come with it".
Michael Hewson, chief market analyst at CMC Markets , said: "It seems that the prices for both [oil and gas] would need to fall to those levels - and not one or the other - for the measure to kick in, which in the current environment seems unlikely.
"While the announcement might offer the illusion of certainty to an increasingly beleaguered oil and gas sector, it doesn't really do anything of the sort. It does nothing to address the longer-term concerns over the UK's energy security and does nothing to encourage the investment in sunk costs required to bring new supply online.
"No one disputes the need to transition to cleaner forms of energy, however this does very little to address that.
"It's just another fig leaf for a political class out of ideas and lacking in anything close to intellectual clarity over how the UK will be able to deal with the challenges over the next five to 10 years."