Go-Ahead and FirstGroup get extensions to Covid rail bail-outs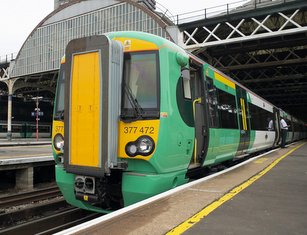 The Department for Transport confirmed extensions to the emergency measures on a number of rail franchises on Monday, protecting operators from continued depressed passenger demand as a result of the Covid-19 pandemic.
Go-Ahead received an extension to the measures on its Govia Thameslink Railway franchise to September 2021, with the possibility for a further extension left open.
The FTSE 250 company said the emergency recovery measures agreement would generate a margin of up to 1.5%, and had no exposure to changes in passenger demand or ancillary revenue, such as car parking and retail commission.
Its other UK rail franchise, Southeastern, would continue operating under its emergency measures agreement until October 2021, or March 2022 if extended.
Go-Ahead said about 90% of total group revenues were currently being generated through contracts where there was no direct revenue risk from changes in passenger demand.
"This contract reaffirms the government's recognition of the important role rail plays in driving economic growth and in connecting communities," said chief executive officer David Brown.
"Independent passenger surveys have found that people who have recently travelled on our services found them to be clean, safe and reliable.
"We look forward to welcoming more passengers back onto our trains."
FirstGroup, meanwhile, confirmed that emergency recovery measures agreements were now in force on its South Western Railway, TransPennine Express and West Coast Partnership franchises.
The overall fee potential was also a maximum of 1.5% of the cost base of each franchise prior to the pandemic, but said the fixed fee and overall fee potential for each franchise was lower under the new measures, compared with the original emergency measures agreements, and was more heavily weighted to performance delivery.
It said the new measures for the West Coast Partnership was in place to the end of March 2022, while the new South Western Railway and TransPennine Express measures were in place to the end of March 2021, with the potential for TransPennine's measures to be in place until September 2021 in certain circumstances.
In addition, all three included options to extend their duration by a further half year at the Department for Transport's discretion.
As it announced earlier this month, the emergency measures agreement for First's Great Western Railway franchise was already extended to at least 26 June 2021.
The DfT also indicated its intention to begin discussions with the train operating companies to transition to new, directly-awarded contracts for the longer term, which would come into effect at the end of the emergency recovery measures agreements.
"The government has extended its funding of the rail industry whilst demand for services remains heavily affected by coronavirus, and we are pleased that the vital nature of rail services to communities and local economies is being recognised," said FirstGroup chief executive officer Matthew Gregory.
"Passengers can be confident that public transport is safe and across our rail networks we have increased service levels to provide more capacity as schools restart and many more workplaces and other facilities reopen."
Gregory said the company was now operating around 90% of the rail services it was prior to the pandemic.
"Together with the earlier GWR extension, these agreements reinforce our balance sheet position and provide a potential path for our rail business to move onto a new contractual footing over time, with a more appropriate balance of risk and reward for all parties.
"We have long advocated for a more sustainable long-term approach to the railway, with passengers at its centre, and we look forward to working constructively with the DfT to make this a reality."
At 0813 BST, shares in FirstGroup were down 5.14% at 40.51p, while those in Go-Ahead Group were off 4.29% at 623.52p.