Gatwick Airport unveils plans for a second runway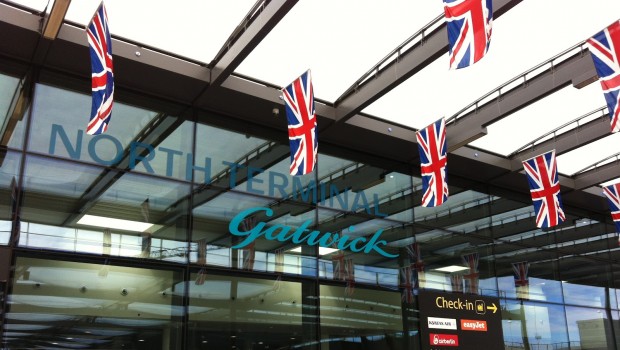 Gatwick Airport has unveiled "ambitious" expansion plans, including converting its emergency runway into a second runway, as it seeks to dramatically increase capacity.
The UK's second-busiest airport currently has one main runway and another shorter one used in emergencies or when the main landing strip is closed for maintenance.
But the hub, which is 42% owned by private equity firm Global Infrastructure Partners, believes the strip could be used for regular flights by the mid 2020s.
Publishing its draft master plan, Gatwick said: "This innovative development, which would meet all international safety requirements, would be delivered without increasing the airport's noise footprint and provide greater operational resilience.
"While in the early stages of exploration, Gatwick is confident the project would remain within the existing airport footprint and existing framework for airport charges."
Regular use of the standby runway is one of three scenarios being considered by Gatwick. The others are using new technology to increase the capacity of the main runway and to build a second runway from scratch.
In June, the Cabinet backed Heathrow's controversial application for a third runway after years of debate. But Gatwick said it remained "in the national interest to continue to safeguard this land for the future as part of its draft master plan".
Gatwick can accommodate 281,000 flights a year, but believes a second runway will enable that to rise to between 375,000 and 390,000 by 2032/33, with passenger numbers increasing to close to 70m from 46m over the same period.
Gatwick did not provide costings for any of its proposals. In June it said it intended to spend £1.1bn increasing capacity over the next five years.
The UK is spilt over airport expansion, with some concerned about cost, noise and the environmental impact. Others, including many business groups, worry the UK will lose its status as an important European hub if capacity cannot be increased.
Stewart Wingate, chief executive of London Gatwick, said: "As the UK heads towards an important new chapter, Gatwick's growing global connections are needed more than ever. Our draft master plan offers agile, productive and low-impact ways of unlocking much needed new capacity and increased resilience."
Carolyn Fairbairn, director general of the CBI, said: "London's airports are set to be full in the next decade, so the CBI welcomes Gatwick's highly productive proposals. This will drive trade and investment, create new jobs and help British business thrive."
But campaign group Communities Against Gatwick Noise and Emissions called the plans "underhand" and "a stab in the heart for residents who thought they could get on with their lives after the runway debate was won by Heathrow Airport. This is despicable behaviour by Gatwick management."
The publication of Thursday's draft master plan marks the start of a 12-week consultation period.