Games Workshop shares at all-time highs as profits jump and cash builds up
Shares of Games Workshop hit a fresh record high after the manufacturer of game miniatures for the popular Warhammer and Middle Earth tabletop wargames announced further sales and profits growth.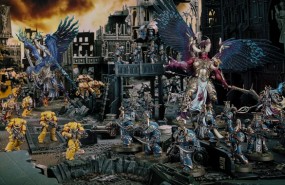 For the year ending on 31 May, the company announced a 5.1% increase in sales to reach £269.7m for a 10% jump in profits before tax to £89.4m.
Group return on capital however declined during the period, from 100% to 94%, the company said.
Commenting on the results, chief executive officer, Kevin Roundtree, said: "An amazing set of results - the best year in Games Workshop's history, so far.
"You can once again see from these results that our business and the Warhammer hobby are in good shape. We look forward to the year ahead and will face any challenges head on and learn from our mistakes."
In a clear statement of intentions, Games Workshop said: "We believe shareholder value is created, primarily, by not destroying it. We have no intention to acquire other companies, nor to dispose of any of those we own."
At period end, cash on hand before paying dividends stood at £70.5m, against £50.7m in the year before.
Dividends per share declared and paid during the year slipped form 155.0p to 145.0p.
Games Workshop also said that "given recent events", going forwards, it would set aside a buffer equal to three months' worth of its working capital requirements "before deciding how much cash is truly surplus for the purpose of declaring dividends".
Commenting on the company's results, Peel Hunt's Charles Hall highlighted the fact that Games Workshop's business had been closed for more than a month, the "particularly strong" appetite seen for the latest Warhammer launch and roughly 40% jump in user numbers on the Warhammer website to over 8.0m.
Alongside the above, Hall upped his estimate for the company's 2021 profits before tax by 30% to £85m and raised his target price for the shares from 8,000.0p to 9,500.0p.
He also noted the decision by Games Workshop to announce a 30.0p per share dividend, which he said was earlier than expected and reflected the strong start to the new financial year.
"The shares have moved to new highs and are on a punchy rating. However, this is a business with clear momentum and significant operational gearing."
As of 0928 BST, stock in Games Workshop was 9.17% higher to 9,320.0p.