Fresnillo shares surge as the price of silver jumps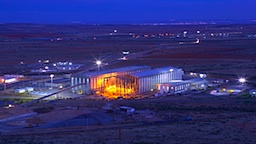 Shares of precious metals miners were flying on Wednesday as the US dollar weakened and, arguably, as investors sought out safe havens in the wake of another flare-up in US-China diplomatic tensions.
Overnight, Washington gave Beijing three days to close its consulate in Houston, the fourth largest city in the US "to protect American intellectual property and Americans' private information."
As of 1405 BST, September-dated silver on COMEX was 6.3% higher at $22.92/oz., alongside a gain for August-dated gold futures of 0.53% to $1,853.6/oz..
Two days before silver had climbed atop $20.0oz. for the first time since 2016.
Riding on the coattails of the advance in silver and gold prices, shares of Fresnillo were leaping 11.6% to 1,193.0p and bumping up against a first level of technical resistance around its early 2018 levels around 1,200.0p, with the next area of resistance lying at around 1,400.0p.
Shares of Polymetal were ahead by 3.57% to 1,726.5p.
Meanwhile, the US dollar spot index, a broad gauge of the Greenback's strength, was a hair's breath away from its 52-week lows.
But other factors also appeared to be at play.
The day before, Citi's Head of North America Commodities Strategy, Aakash Doshi, had forecast that silver was set to outperform gold.
His reasoning? Improving inflation expectations in markets, a rebound in global industrial activity and a recovery in emerging market exchange rates.
Hence, said Doshi, over the next six to eighteen months, the so-called gold-silver price ratio was set to fall from approximately 93 mid July to between 75 and 85, before settling at around 80.
Nonetheless, gold prices were also expected to continue climbing, he said, anticipating a rise to $2,000/oz. on a 6-12 month view.
The price of silver meanwhile was seen hitting $25/oz over that same time frame.
Also on Tuesday, Doshi's colleagues bumped up their estimates for midcap European mining operating profits over 2020-22 by 20%, 15% and 6%, as they marked up their commodity price forecasts, telling clients that earnings were set to hit bottom in the second quarter of 2020.
Linked to the above, they upgraded their recommendation on Fresnillo to 'buy' with a target price of 1,250.0p, while reiterating the same for Kaz Minerals and Polymetal, although they did downgrade Antofagasta to 'sell'.