Fresnillo optimistic as outlook improves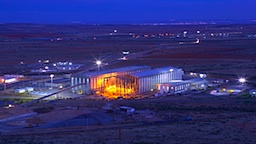 Fresnillo said production had stabilised and the outlook was improving after Covid-19 disrupted its operations in the previous financial year.
In a statement to the precious metals miner's annual general meeting, Chairman Alejandro Baillères said Fresnillo's "full potential plan" was starting to take effect and that its new tunnel boring machine started operating successfully. "Though some working restrictions remain in place, progress to date gives us cause for cautious optimism," Baillères said.
Construction of the Mexican miner's new Juanicipio mine is on track to be operational by the fourth quarter of 2021 and production will increase when the recently completed pyrites flotation plant at Fresnillo is up and running, Baillères said. The FTSE 100 company's exploration teams are identifying and developing potential projects, he said.
"Fresnillo is in a strong position, supported by a proven strategy, a positive culture and an expert executive team," Baillères said. "Production has stabilised as expected and the pipeline of new mines and projects - together with a series of improvement programmes, as well as an improving outlook more generally - provides us with solid grounds for optimism."
Fresnillo's earnings rose 73% in the year to the end of December and revenue increased 15% to $2.4bn as higher precious metals prices more than offset disruption caused by the pandemic. The company reiterated its full-year guidance in late April after first-quarter production was in line with expectations.