Fresnillo reports lower gold and silver production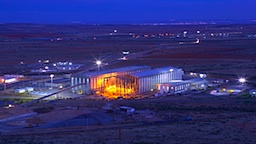 Fresnillo said it would keep production guidance under review during the Covid-19 crisis as the precious metals miner reported lower output of gold and silver in the first quarter.
The FTSE 100 company, whose mines are in Mexico, said it was working with the Mexican authorities to keep operations open while protecting workers. It said lower production was in line with expectations and that output would be weighted towards the end of the year.
Silver production fell 4% to 13.2 moz between the end of December and the end of March because of a lower ore grade at its San Julián mine and a lower volume of ore at Saucito. Silver production rose 0.7% from a year earlier.
Gold production fell 15.7% from the end of December to 197 koz because of less ore processed and more stripping at the Herradura mine. Gold production fell 6.7% from a year earlier.
Octavio Alvídrez, Fresnillo's chief executive, said: "We continue to work with both the federal and local authorities to agree on best practice protocols under which the mining industry can continue to operate. We will continue to keep full year production guidance under constant review.
"Quarterly silver production was in line with expectations, down slightly against the previous quarter mainly due to lower grades at San Julián. We expect production to be back-end-weighted this year. "
Fresnillo said it was well funded with enough cash to withstand temporary disruption to its operations.