Franco Manca owner Fulham Shore upbeat after reopening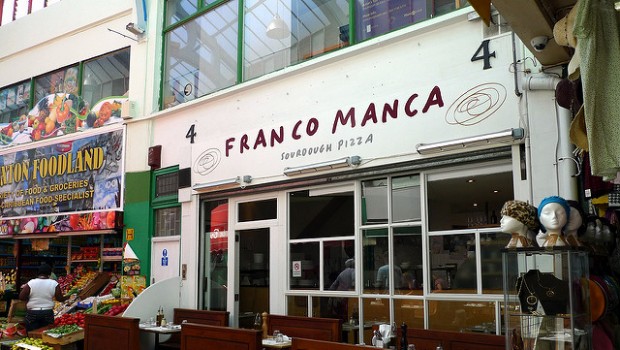 Fulham Shore, owner of the Franco Manca pizza chain, said it was on the lookout for new branches after trading in the first week following lockdown beat two years earlier.
The company has reopened 70 of its 72 restaurants for combinations of outdoor dining, delivery and collection after the government relaxed restrictions on 12 April. It said 37 out of 52 operational Franco Manca pizzeria had outside dining space and 16 The Real Greek branches out of 18.
Sales in the week ended 18 April were "very encouraging" and with no inside seating were better than the same week in April 2019, before the pandemic hit trading, Fulham Shore said in a trading update.
Fulham Shore shares rose 9.3% to 17.49p at 08:06 BST - their highest since the summer of 2017.
Based on these results Fulham Shore is looking for new locations and in the past two weeks has looked at sites in cities including London, Durham, Edinburgh, Cardiff and Liverpool. Many of the outlets have fitted units already after the previous tenants went bust and this should reduce capital spending per site and return on capital, the company said.
"The group continues to be presented with a number of excellent potential retail locations, almost on a daily basis," Fulham Shore said. "The board believes that the next few months may be the most exciting in the group's short history and looks forward to opening our restaurants fully once permitted and capitalising on the property opportunities that are being presented to us."
Franco Manca has expanded even amid a glut of casual dining pizza restaurants, helped by the popularity of its sourdough pizzas cooked in woodfired ovens.