EasyJet H1 losses to be slightly better than expected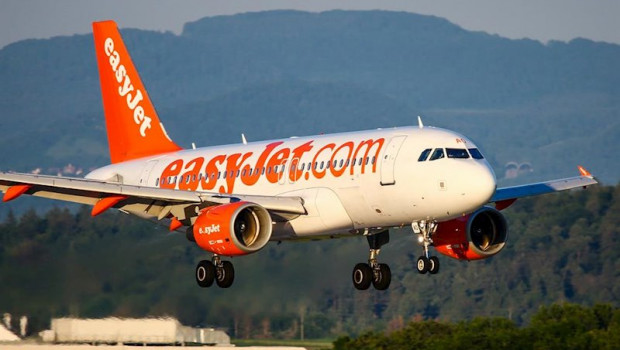 EasyJet said on Wednesday that its headline pre-tax losses for the first half are set to come in slightly better than analysts' expectations thanks to cost-cutting, and that it anticipates a pick-up in passenger numbers from late May.
In an update on trading for the six months to the end of March, the budget airline said it now expects a headline pre-tax loss of between £690m and £730m. It attributed the slightly better than expected performance to its major restructuring and cost reduction programme.
Group headline costs excluding fuel fell 59% to £845m, driven by a decrease in capacity flown and "material" savings from the cost-out programme. EasyJet also said that total cash burn during the second quarter of £470m was better than previous guidance.
Passenger numbers fell 89% over the period to 4.1m as capacity reduced by 14% compared to the same period in 2019. As a result, group revenue for the six months was down around 90% to £235m, with passenger revenue 91% lower at £165m.
Chief executive officer Johan Lundgren said: "We welcome the confirmation by the UK Government that international travel is on track to reopen as planned in mid-May. easyJet was founded to make travel accessible for all and so we continue to engage with Government to ensure that the cost of the required testing is driven down so that it doesn't risk turning back the clock and make travel too costly for some.
"We continue to closely monitor the situation across Europe and with vaccination programmes accelerating, most countries are planning to resume flying at scale in May. We have the operational flexibility to rapidly increase flying and add destinations to match demand. EasyJet is ready to resume flying, prepared for the ramp up and looking forward to being able to reunite people with their families or take them on leisure and business flights once again."
At 1200 BST, the shares were up 3.1% at 952.93p.
Laura Hoy, equity analyst at Hargreaves Lansdown, said: "If travel picks up as expected in May, the group looks to be in a strong position to capitalise on pent-up demand. The group's position as a low-cost provider should stand it in good stead, particularly if the cost to fly increases due to Covid testing requirements. We're expecting passengers to fork out more for things like extra legroom and cabin bags, something easyJet is prepared to pounce on with its new fare class, Standard Plus.
"However, what travellers are willing to spend (and whether they'll fly) is largely dependent on how travel restrictions are lifted. Expensive testing requirements and uncertain quarantine rules could keep large swaths of easyJet's customers from booking flights at all."