DS Smith to pay interim dividend as performance improves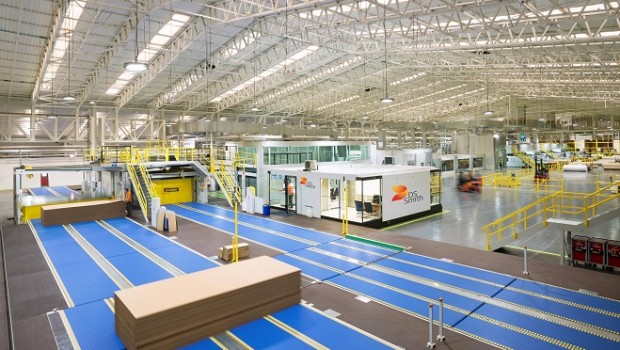 DS Smith said on Tuesday that its performance had continued to improve through the latter parts of its first half, with its expectations for overall financial performance unchanged, and the board still expecting to pay a dividend.
The FTSE 100 packaging giant said corrugated box volumes in and throughout the second quarter had returned to year-on-year growth, following the challenges of the first quarter, with the firm expecting volumes for the first half ended 31 October to be around 1.5% lower than the same time last year.
It said regional trends had also continued, with positive corrugated box growth seen in both Europe and the US, reflecting ongoing market share gains, in particular with its large fast-moving consumer goods (FMCG) and e-commerce customers.
The board said the "step-change" in the use of e-commerce amid the pandemic was "clearly established" across its territories, with "very high demand" from customers for e-commerce packaging heading into the festive season.
DS Smith said it remained "highly focussed" on costs and margin, together with robust cash generation, as it continued to see the expected year-on-year "modest" price deflation in box pricing.
It noted that the second quarter increases in packaging demand were being reflected in upward pressure on paper pricing in Europe and the US, providing support for corrugated box pricing.
The company said that, while its profit for the half-year would be lower than the comparable prior year period due to Covid, it had seen a "significant improvement" in the second quarter compared to the first, on both sides of the Atlantic, which put down to the benefit of improving packaging volumes and reduced old corrugated container (OCC) pricing, combined with the first quarter weighting of additional Covid-19 disruption costs.
Given the improvement in performance, it was still the board's intention to declare a dividend for the half year ended 31 October.
"I am pleased with the performance of the group in the first half of the year, in what remains a difficult and uncertain economic environment caused by Covid-19," said group chief executive officer Miles Roberts.
"We continue to be excited by the underlying drivers of demand for our sustainable corrugated packaging and our leading offerings for FMCG and e-commerce customers, together with our focus on cost efficiency and cash generation, give us confidence in the business going forward."
DS Smith said it would release its results for the half-year ended 31 October on 10 December.