DS Smith plans sale of plastics arm as interim profits rise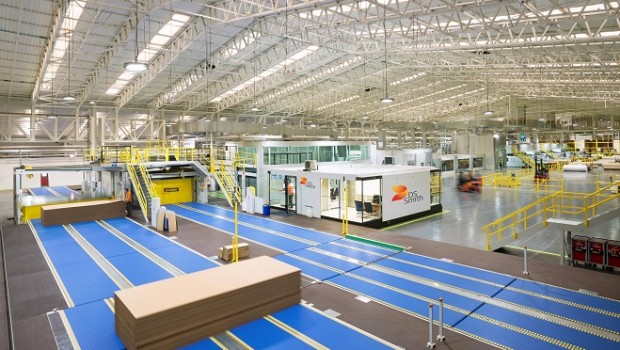 Packaging company DS Smith grew profits 27% in the first half of the year and said it was exploring the potential sale of its plastics division.
The FTSE 100 group reported a profit before tax of £162m for the six months to 31 October as acquisitions and solid organic growth led to revenues of £3.1bn, up 15%, while margins were up 120 basis points to 9.9%. Operating profits were up 32%, having been flagged in a trading statement last month as being "materially" ahead of last year.
Revenues were boosted by the full recovery of paper prices through box selling price rises, plus the contributions from acquisitions and volume growth in corrugated boxes as the sector enjoys strong market demand for packaging to service the e-commerce boom.
However, corrugated box volume growth has slowed in the half-year period, with growth of 3.2% versus 5.2% growth reported in the previous fiscal year.
The key acquisition was US-based Interstate Resources made last year, where the performance was reported as "excellent" and the business now substantially integrated within the wider group. March purchases Ecopaper and Ecopack contributed to good growth in Central Europe and Italy. The acquisition of Spain's Europac, which generated €868m of revenue last year, is expected to be completed by the end of December.
Market share increased as volumes grew 3.2% on an organic basis, with "very good" volumes continuing from its multinational customers.
Chief executive Miles Roberts said market share gains were down to the company's strong presence in fast-moving consumer goods and "leadership" in both e-commerce and sustainable packaging across Europe and the US.
"We are very pleased with the progress we have made over the last six months. We have strong momentum in the market, delivering good top line growth and substantially increased profit levels," he said. He added that the group was "extremely well positioned to capitalise" on the ongoing growth trends in FMCG, particularly e-commerce and sustainability.
Following the initial review of the Plastics business, Roberts said the board has concluded that it "is an attractive asset with good growth prospects, and we are now exploring opportunities for a potential sale of the division". The plastics business grew revenues 2%, while there was an impact on profitability due to the impact of higher polymer prices.
Free cash flow was £209m, up from £162m a year ago. Earnings per share for continuing operations before amortisation and adjusting items increased 9% to 16.5p, partially offset by £1bn July fundraising to raise funds for the Europac acquisition. Reported EPS of 9.5p was up from 9.1p a year ago. The interim dividend was lifted 14% to 5.2p per share.
Net debt was cut by £1bn to £648m, reflecting the combination of free cash flow and the fundraising. The completion of the Europac acquisition is now expected to see leverage finish the year at 2.3 times EBITDA, compared to the previously guided 2.5x.
The recovery of paper price increases has now completed and the second half has begun "with good momentum", Roberts concluded, with an outlook that "remains positive".
MARKET REACTION & ANALYSIS
DS Smith shares, having gained 20% between January to October before losing a third of their value since, were down 3% on Thursday to 316.7p.
Analyst Harry Philips at broker Peel Hunt said it was a "good set" of interims results with solid organic revenue growth and improved margins as the company recovering paper price increases and hikes the dividend.
"On a group basis including Plastics, EBIT was £318m which is right in line with expectations, and the numbers are a continuation of the sustained momentum through the current year."
Philips said he understand investors were sensitive around the leverage, but felt the company's track record of delivery over the last decade "gives us real confidence in a stock, underpinned by FMCG and ecommerce, which is more than 40% off its current year high".
On paper, Russ Mould of AJ Bell, agreed that it was "hard to find any major faults" with the results. He said the reasons for the share price fall on Thursday was down to three potential reasons. "The first is that higher polymer prices have hurt profitability in its plastics division, which has now been put up for sale. Second, investors in general seem to be increasingly worried about the pace of global economic growth. DS Smith is highly leveraged to global economic activity and any slowdown in spending by consumers and businesses could have negative consequences for packaging demand."
A third possible reason, Mould said, was the slowdown in corrugated box volume growth. "This may have spooked investors and led them to fear that DS Smith's purple patch is coming to an end."