DS Smith annual profit rises on e-commerce demand; revenue dips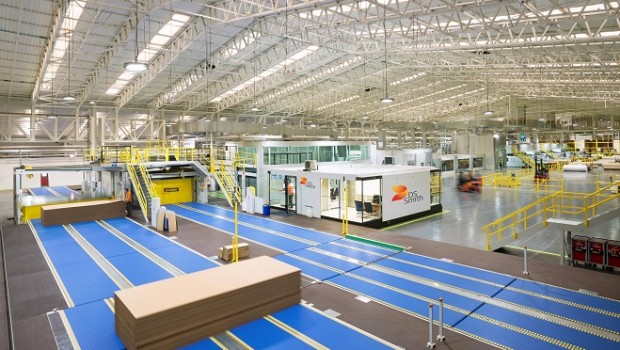 Packaging company DS Smith reported a 5% increase in full-year profit on Thursday as strong e-commerce demand offset weaker demand from industrial customers, but revenue dipped amid weak paper pricing in Europe and North America.
In the year to 30 April, pre-tax profit rose to £368m from £350m the year before, but revenue slipped 2% to £6.04bn due to reduced pricing of external paper and recyclate.
The company said its Northern Europe division saw corrugated box volume growth slightly under the group average for the year, reflecting a consistently good level of growth in the UK and more difficult conditions in industrial customers in Benelux and Germany.
As the Covid-19 lockdowns came into place in March and April, demand for fast-moving consumer goods and e-commerce was boosted, with overall volumes in e-commerce experiencing "double digit" growth for the year.
However, this was partially offset by weakness in the industrial market, which "fell materially" in the final month of the year.
DS Smith said that as previously noted, the estimated impact on the year from Covid-19 is about £15m, including direct additional costs such as overtime to cover increased absenteeism, shielding and sanitation costs, increased haulage costs due to restricted labour supply, and a spike in input prices and other costs.
The group said that given current economic uncertainty, it remains too early to resume dividend payments.
Chief executive Miles Roberts said: "Our business model is resilient, built on our consistent FMCG and e-commerce customer base. In the short term, however, the impact of Covid-19 on the economies in which we operate is likely to impact volumes to industrial customers and add to operating costs. In particular, infrastructure constraints have driven elevated OCC prices, although we currently expect the impact to be limited to H1.
"In the medium-term, the growth drivers of e-commerce and sustainability are as strong as ever. The Covid-19 crisis is also expected to accelerate a number of the structural drivers for corrugated packaging and our scale and innovation led customer offering positions us well and gives us confidence for the future."
At 1010 BST, the shares were down 7.3% at 295.50p.
Sophie Lund-Yates, equity analyst at Hargreaves Lansdown, said: "Investors will be disappointed dividends have been put on the back burner, especially as net debt seems to be under control. However the move is a prudent one - protecting cash reserves now will ensure the path back to shareholder returns remains open."