Investors give Dr Martens a kicking after margin warning, profit slump
US warehouse blunder hits bottom line at iconic bootmaker
Analysts fear earnings may fall again based on guidance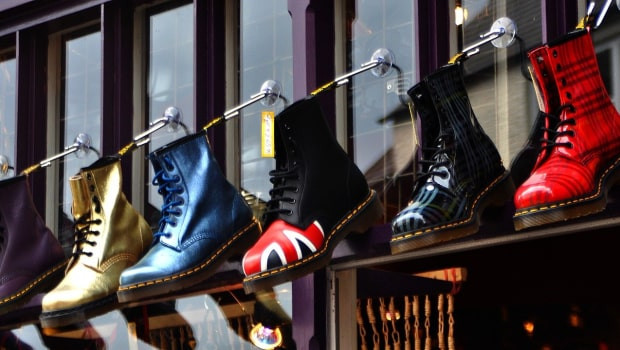 Shares in Dr Martens tanked on Thursday as the UK bootmaker posted a slump in annual earnings and said it expected lower core margins in 2024 as it incurred extra costs after blunders at its Los Angeles distribution centre.
Pre-tax profit for the year to March fell 26% to £159m. Revenue jumped 10% to hit £1bn for the first time. Analysts are now concerned that the lower margins guidance will mean another drop in earnings this year and that the company will now have to discount its high-priced stock to reduce a £258m inventory pile.
Dr Martens said high inflation, rising interest rates and an uncertain geopolitical landscape had weakened consumer demand in some of its core markets, especially America, as shoppers refrained from buying the company's iconic chunky-soled and expensive boots and shoes.
"We do not expect this to change materially through full-year 2024," it added. Shares in the firm fell 12% in early London trade.
Current full-year core margins are expected to be 1-2 percentage points lower than last fiscal year, driven by the extra £15m in costs at the LA distribution centre and incremental investment of £20m.
"In America, against the backdrop of a challenging consumer environment, we made operational mistakes, such as the move to our LA Distribution Centre, and how we executed our marketing campaigns and ecommerce trading," said chief executive Kenny Wilson.
"We have undertaken detailed reviews to understand why these issues occurred and have begun to embed the lessons learned into the business. We are fixing the issues in America, including a significant strengthening of the team there, and returning America to good growth is our number one operational priority."
Long-suffering shareholders have seen the value of their investment tumble since the company's private equity owners first floated two-and-a-half years ago at 370p a share, giving it a valuation of £3.7bn. The stock is now at 140p, almost halving in a year.
ANOTHER KICKING FOR SHAREHOLDERS
"Investors could be forgiven for sighing and dismissing Dr Martens as just another dud to be sold onto the unwary by private equity, given that the shares stand more than 60% below their 2021 flotation price after the latest set of disappointing results," said AJ Bell investment director Russ Mould.
"The issue is not the numbers for the year that ended in March 2023, but the guidance from chief executive Kenny Wilson for the coming year, which signals increased investment in the business and therefore lower profit margins. That is the latest in a string of disappointments and one which could feed the prejudice that private equity firms squeeze costs and investment too hard when they own a business and then leave the next owners to pick up the tab."
Mould said Dr Martens' preferred measure of earnings before interest, taxes, depreciation and amortisation (EBITDA) came in as expected, at £245m for a 24.5% return on sales.
"Analysts had pencilled in £250m for the year to March 2024, and a 23.9% margin, but that now looks optimistic given Wilson's suggestion that sales will rise by a mid-to-high single digit percentage in the coming year, but that EBITDA margins will slide by one or two percentage points. That implies an EBITDA number of £242m at the mid-point, assuming a 1.5-point margin decline."
Mould added that any need to cut prices – "something which the power of the much-cherished brand may help the company avoid" – could weigh further on margins and leave the 30% EBITDA margin target brandished by Dr Martens when it first came to market "looking even further away".
Reporting by Frank Prenesti for Sharecast.com