Dr Martens shares slump on margins warning as interim profits slip
Shoe brand hikes dividend, says prices will rise to offset inflation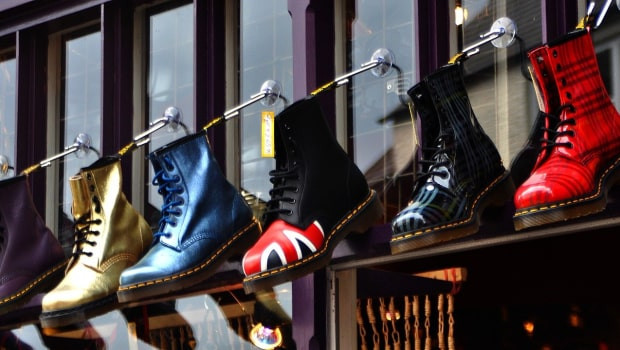 Shares in Dr Martens slumped on Thursday as the famous UK shoe brand warned of lower core profit margins after interim profit fell on weaker direct-to-consumer sales in the second quarter and said it would raise prices to offset inflation.
The company, famed for its lace up boots now popular with celebrities, said pre-tax profit fell 5% to £57.9m. Revenue rose 13% to £418.6m, while the dividend was lifted 28% to 1.56p a share.
Core earnings margins for the full financial year will be between 100 basis points and 250 basis points lower than last year, it added. Shares in the company were down by 20% in early London trade.
Dr Martens said it would raise prices by 6% to cover cost inflation and said pricing headroom would increase further as the company continued to invest in its push to lift DTC sales.
Customers are facing rising household bills, with inflation surging to 11.1% - a 41 year high - forcing them to cut back on discretionary spending. A pair of Dr Martens can retail for almost £300.
"Since the end of H1, DTC trading has been variable on a week-to-week basis. Our peak trading weeks are ahead of us and last year they were impacted by Covid-19 restrictions in EMEA and poor availability in America and Japan," the company said.
"Wholesale has been strong in H2 so far, including the benefit of the £10m revenue shift in EMEA from September to October, and is underpinned by the orderbook."
INVESTMENT DRIVE TO BOOST SALES
Core earnings in the six months to September 30 were flat at £88m as the company continued to invest to drive growth through new stores, marketing and distribution centres.
DTC revenue rose 21% to £179.8m led by a strong performance from retail, which was up 38% to £91m driven by the accelerated new store opening programme and a consistent recovery in post Covid footfall across both Europe and the US, with a slightly slower recovery profile in Japan.
A net new 16 stores were opened during the half, taking the total number of Dr Martens own stores to 174.
Ecommerce grew 8% to £88.8m as consumers returned to physical shopping after the lifting of global Covid-19 restrictions. Online sales were also hit by lockdowns in Shanghai in the first quarter where the company's distribution centre is located.
DOES THE SHOE FIT?
Interactive Investor analyst Victoria Scholar said macroeconomic pressures from inflation and the consumer slowdown appear to be catching up with the brand after record sales last year, with the shares trading around 35% below their flotation price of 370 pence.
"This is a brand that falls in and out of favour among fickle fashionistas. Recently its boots were a 'must have' but that preference appears to be fading. No doubt Dr Martens will be hoping for a boost to sales around Christmas, but January onwards could prove more challenging," she said.
"From an investment perspective, the company still seems to be in favour among analysts with seven buy recommendations, one hold and zero sells on the stock with an average price target up 61% from the current share price. Although there could be some downgrades after today's update."
Russ Mould, investment director at financial platform AJ Bell, said the numbers suggested "pricing power isn't what many might have hoped given the apparent strength of the brand".
"Growth in the lucrative direct-to-consumer sales channel is slipping and that matters because building out this part of the business is a key thread of the strategy," he said.
"Hopes that a hefty increase in the dividend would keep the market sweet have proved forlorn, though one item which is hitting profitability, but which should earn Dr Martens a bit of credit, is the investment in the business.
"Taking a short-term hit to profit now to support growth in the future is what any business should be doing, an Dr Martens will hope this will help it put its best foot forward from here."
Reporting by Frank Prenesti for Sharecast.com