Domino's shares hit record after franchise dispute resolved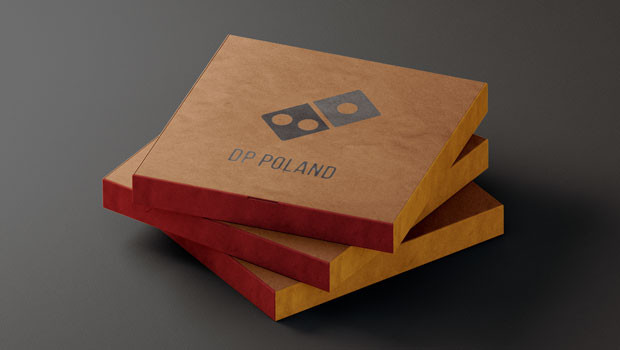 Domino's Pizza shares jumped to a record high after the company settled a long-running dispute with its franchisees, opening the way for more stores and the adoption of new technology at the fast-food chain.
The FTSE 250 group said it would spend £20m over three years on digital technology, app development and other improvements to upgrade customer service and increase revenue. It will also spend more on marketing, improve its food rebate scheme and increase incentives to encourage new stores.
In return, Domino's franchise operators have agreed to open at least 45 new stores a year over the next three years, take part in new national promotional deals and adopt new technology such as GPS tracking and store formats.
Shares of Domino's surged 27% to 439.6p at 09:53 BST - their highest value since the company's flotation in 1999.
Domino's said trading in 2021 would be in line with expectations. In 2022 sales growth will speed up and earnings will meet current market expectations. The deal will lead to higher sales and profitability in the medium to long term, it predicted. Over the medium term the company will achieve at least the upper end of its £1.6bn-£1.9bn of sales and exceed the of 200 new stores, it predicted.
Domino's franchisees have been in dispute with the parent group over various matters for several years and have been refusing to open more stores. The franchisees buy food and services from Domino's. They have complained for at least five years that Domino's takes too much of the profit from their partnership.
Domino's said in recent years the UK operation had lagged behind the company's operations in the rest of the world. The deal with franchisees unlocks a problem that had held it back, it said.
Dominic Paul, Domino's chief executive, said: "This is an important moment for Domino's, and I'm delighted we have reached what is truly a great resolution with our franchisees. The resolution we have reached is a good one for franchisees, our people and our shareholders. It means that our interests are aligned, and we are now in an even stronger position to execute our strategic plan."
Russ Mould, investment director at AJ Bell, said: "The market likes the news as, at a stroke, it improves the growth trajectory of the business. However Domino's relationship with its franchisees remains a vulnerability for the group which could rear its ugly head at the end of this three-year agreement."