Deliveroo slumps on market debut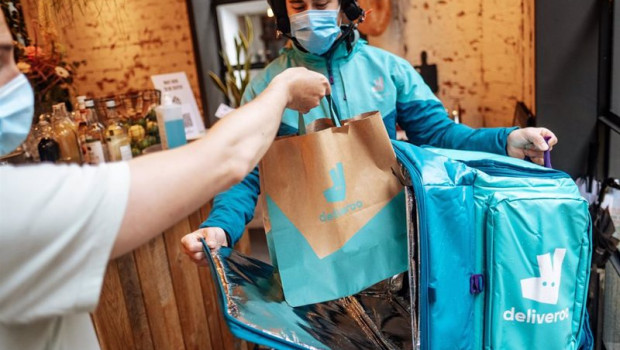 Deliveroo shares tanked on its market debut on Wednesday, with more than £2bn wiped off the company's valuation within minutes of the opening bell.
The food delivery giant, which had already cut £1.2bn off its targeted top end valuation before the debut, saw its shares sink as much as 30% at one point, from £3.90 to £2.75, getting off to a dismal start after a number of big investors expressed concerns about workers' rights.
Aviva Investors said last week that it would not invest in the shares because of the company's treatment of delivery riders. Legal & General also said it would shun the flotation, joining the likes of BMO Global, CCLA and Aberdeen Standard, all of which have been put off by workers' rights issues.
Amazon-backed Deliveroo treats its riders as self-employed contractors, meaning they are not entitled to holiday or sick pay.
Investors such a L&G have also raised concerns about Deliveroo's dual share class structure, which for the first three years of the listing gives more power over the company to founder Will Shu than to other shareholders.
Analysts also highlighted the fact that Deliveroo has not yet made a profit. Earlier in March, the company posted a 2020 loss of £223.7m, despite surging sales during lockdown.
Russ Mould, investment director at AJ Bell, said: "Deliveroo has gone from hero to zero as the much-hyped stock market debut falls flat on its face. It had better get used to the nickname 'Flopperoo'.
"Initially there was a lot of fanfare about the Amazon-backed company making its shares available to the public, including the ability for customers to buy stock in the IPO offer. Sadly, the narrative took a turn for the worst when multiple fund managers came out and said they wouldn't back the business due to concerns about working practices.
"This is likely to have spooked a lot of people who applied for shares in the IPO offer, meaning they are racing to dump them."
He said investors must question whether the knee-jerk reaction at the open was simply a short-term issue and if investors who like the long-term growth opportunity will flock to buy shares at the even cheaper price.
Neil Wilson, chief market analyst at Markets.com, said the share price decline reflects the cautious approach big funds have taken towards the stock amid worries about working practices and governance.
"A lot of the big UK funds are not on side, which was failure number one. Will Shu could have avoided that by going for a premium listing and eschewing the tech stock desire for a dual-class structure that leaves power with the founder.
"Retail may also have been put by some of the negative chatter on social media and in the press - the narrative has been negative really since it came out with the IPO. Chiefly though it reflects the fact that even pricing the IPO at the bottom of the range, Deliveroo was demanding too high a price tag for a loss-making delivery platform in a very competitive space with a questionable path to profitability. The books were covered, it was just plain mis-priced."
Sophie Lund-Yates, equity analyst at Hargreaves Lansdown, pointed out that if forced to offer more traditional employee benefits, like company pension contributions, Deliveroo's already thin margins would struggle to climb, and the road to profitability would look "very tough indeed".
"Throw in the recent developments at Uber, and general market volatility, and the net effect is one of increased anxiety. Sadly for the group, anxiety doesn't tend to inflate share prices."
Last month, Uber lost a long-running legal battle and was required to award its drivers basic employment rights such as the minimum wage and holiday pay. Uber had argued its drivers were not workers but the Supreme Court rejected its claim.
At 1340 BST, the shares were down 12% at 289.65p.