Deliveroo parks bikes on Just Eat's lawn with expansion plans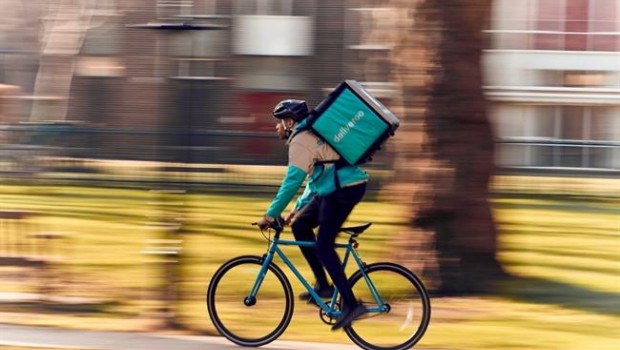 Deliveroo is planning to expand in the UK this year by signing up 5,000 restaurants and takeaway outlets to its platform with a new 'Marketplace+' feature that serves as a direct challenge to Just Eat.
The six-year-old food delivery company, which hitherto has offered its 15,000 bike couriers to restaurants with no delivery option of their own, will begin to offer the option of using Deliveroo riders at busy times to restaurants with their own delivery service. The 'Marketplace+' option is scheduled to be launched in July.
The new platform will allow restaurants with their own delivery fleet to plug into Deliveroo's network of riders to cope with peak demand, allowing the company to spearhead a push into 50 new UK towns and cities. The initiative will also be rolled out globally with launches planned in Italy, Belgium, Netherlands, Australia and Hong Kong this year.
Deliveroo founder and CEO Will Shu said the new service would enable users to choose from 50% more restaurants, with the company's looking to reach about 6m new customers by the end of the year as part of its long term goal is to become the "definitive" food delivery company.
Deliveroo last year closed a $385m round of investment from top US investors and earlier this year was reported to be looking at an initial public offer in London or New York in next 12 months or so. Profits remain somewhat of an issue, however, with the privately owned company's last published annual accounts for 2016 revealing a £129m loss on revenues of £128.6m.
Analysts at City broker Canaccord said the Marketplace+ service was a "copy" of the Just Eat model and is a direct competitive response to the planned Just Eat push into the quick service restaurant market, where the online ordering company added a delivery solution to its own core marketplace business.
Although Deliveroo faces two legal challenges over the employment status of their workers, ex investment banker Shu, who declined to comment on commission rates, said that the company valued its workers' flexible timetables and would do whatever it took to preserve that flexibility.
The move comes just months after Just Eat's announcement to launch its own delivery fleet in the UK, Canada, Australia and New Zealand. Shares in the newly promoted FTSE 100 company were down 9% on Wednesday morning.
Canaccord analysts said the uncertainty generated by the move would be reflected in a greater volatility for Just Eat's share price: "As a consequence, it would not surprise us if Just Eat settled into a new broad trading range."
Goldman Sachs said the 10% fall in the shares on Wednesday morning implies the market is assuming "at the high end" of the potential impact of the crossover is restaurants between the two companies would be lost to Deliveroo.
The Deliveroo plan "is a competitive threat", Goldman believes, but points to "the very low levels of customer churn that takeaway platform operators consistently point to across the various companies we cover, which would suggest Deliveroo's move could be more of a threat to future growth, than the existing customer base".
Given Just Eat's core customer base is very much skewed towards the lower price segment, direct competition with delivery platforms was limited. Going forward analysts see four key risks: new delivery restaurants on Just Eat's platform partly cannibalizing order growth from marketplace restaurants in the UK; chains with strong brands in the lower-price segment moving aggressively into Just Eat's rural heartland; Deliveroo and UberEATS extending their reach outside of London driving increased competition; and both rivals increasingly moving down the price scale and entering the FTSE 100 company's market.