Deliveroo gains as retail investors start trading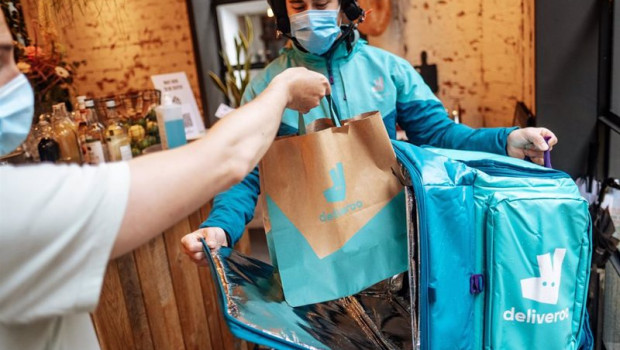 Deliveroo shares rose on the first day that retail investors were allowed to trade shares bought in the company's contentious initial public offering.
Shares in the food delivery group were up 3.3% to 289.1p at 09:11 GMT. The shares were still valued at more than £1 less than their flotation price.
Deliveroo sold shares to the market at 390p a share but its stock slumped on the first day of trading by institutional investors on 31 March. The IPO was blighted by concerns about business risks, corporate governance and a hefty valuation of £7.6bn.
Analysts had been waiting for the response of the 70,000 customers who bought stock in the IPO. Those investors were not allowed to trade until Wednesday under market rules.
Early trading suggested most retail investors had decided to stick with their bet on the prospects for food delivery despite the botched IPO. The Financial Times reported on Tuesday that Goldman Sachs, a global coordinator on the flotation, bought £75m of shares on 31 March to support trading.
Susannah Streeter, senior analyst at Hargreaves Lansdown, said: "Deliveroo customers who were encouraged to buy a slice of the company threw the dice on a disastrous debut. They have been locked out of selling their shares for a week, while the company's initial valuation fell sharply.
"We would always encourage investors to have a long-term strategy, and not invest in shares for speculative short term gain. However, it is clear that IPOs should offer a much more level playing field from day one for all classes of investors."