Darktrace launches £75m share buyback after short seller attack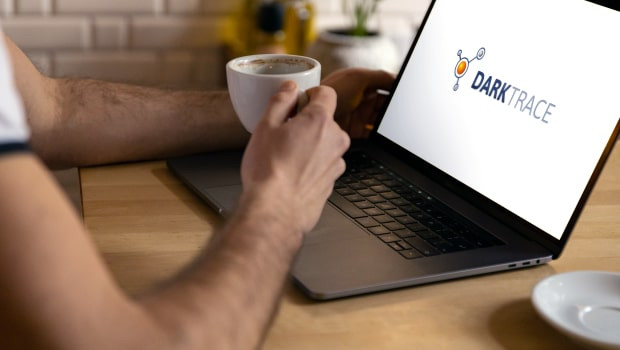 Cyber security firm Darktrace announced a share buyback on Wednesday of up to 35m shares.
The company, which was hit earlier this week by a short seller attack, said the £75m buyback will begin immediately and be completed by no later than the end of October.
Chair Gordon Hurst said the buyback "is the best use of Darktrace's surplus cash in current market conditions".
"Notwithstanding the challenging macro-economic climate, we remain confident of Darktrace's business model," he said.
"Its industry-leading technology developed by its talented R&D team is producing exciting new products and it continues to grow its loyal global customer base. Darktrace's AI-based solutions prevent wide-spread cyber disruption and represent the future of cyber defence. Through this programme, we are pleased to be returning value to shareholders, while maintaining a strong cash position so we can fund continued investments in the business, including in scaling and diversifying our R&D teams."
The company's stock tumbled earlier this week after Quintessential Capital Management reported a net short position of 6.18m shares and questioned the validity of Darktrace's financial statements.
Explaining the reasons for its short, the New York-based asset management firm said in a report: "After a careful analysis, we are deeply sceptical about the validity of Darktrace's financial statements and fear that sales, margins, and growth rates may be overstated and close to a sharp correction.
"Our opinion is based primarily on numerous transactions we detected during the period leading to DT's IPO seemingly involving simulated or anticipated sales to phantom end-users through a network of willing resellers."
Darktrace then hit back at the report, insisting that it takes its fiduciary responsibilities "very seriously" and that it has "rigorous controls in place" across the business to ensure it complies fully with IFRS accounting standards.
Russ Mould, investment director at AJ Bell, said: "A year since ShadowFall had a pop at the business, along came another damning criticism of Darktrace earlier this week from Quintessential Capital Management which has raised questions about the group's accounts.
"Naturally this has resulted in share price weakness in recent days, and it's enough for Darktrace to launch a £75 million share buyback programme.
"This sends a message to the market that Darktrace's management clearly thinks the shares are too cheap. It also reinforces the message transmitted earlier this week that the business doesn't think it has done anything wrong, saying it has 'full confidence' in its accounting practice.
"However, the fact we've had two damning reports means a lot of investors will have lost faith in the business. A buyback might provide short-term relief to the share price but ultimately Darktrace needs to come up with some detailed responses to Quintessential's accusations or investors are simply going to walk away."