Compass Group seeing 'slow recovery' as revenue slides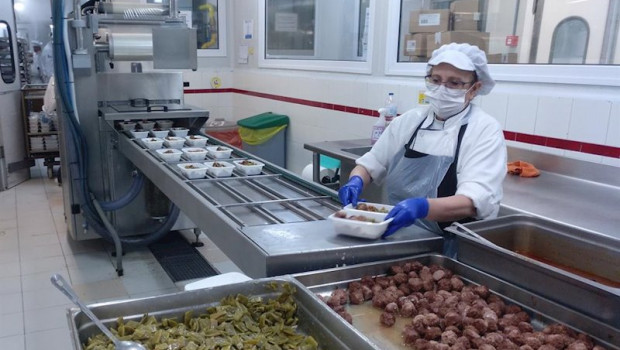 Compass Group reported a 44% fall in organic revenue in its third quarter on Thursday, with revenue down 14% year-on-year in the first nine months overall.
The FTSE 100 foodservice giant said that in North America, organic revenue was down 45% in the quarter ended 30 June, and 13% for the first three quarters of the year, while in Europe revenue was down 54% in the third quarter and 21% for the year-to-date.
For the rest of world geography, organic revenue was 20% weaker in the third quarter, and down 5% for the year-to-date.
Compass said its operating margin in the third quarter was a negative 6.3% for the third quarter, but a positive 3.9% for the first nine months of the financial year.
"In a quarter when lockdown measures were at their most severe in our major markets, the steps taken to contain the spread of the virus impacted our sectors in different ways," the Compass Group board said in its statement
It said performance in healthcare and defence, offshore and remote was good, while its education, and business and industry sectors, were "mostly closed" in April and May, and started to cautiously reopen in June, while sports and leisure remained "fully shut".
By the end of June, around 60% of Compass' business was open, compared to 55% by the end of May.
Retention was described as "robust" at 95%, with the company reporting that it had started to see "attractive" new first-time outsourcing opportunities.
"Our sites are re-opening with best-in-class health and safety protocols, and we are actively entering into contract re-negotiations with our clients to recover the costs of operating safely and with lower attendance levels."
Compass said it began to adjust its business to the new trading environment, and in the third quarter spent £42m in resizing costs in both North and South America.
It said that encouragingly, the group's operating margin improved within the quarter, and the drop through improved further to 20% in June.
"We continue to manage our cash judiciously and have focused on working capital management and agreed tax deferrals."
The company's free cash flow in the third quarter was an outflow of £260m, which included capital expenditure of £130m, and was mainly contractually committed investments.
Working capital was an outflow of £100m, which was flattered by tax deferrals of around £220m and a "significant improvement" in the collection of receivables.
Net debt stood at £3.2bn at 30 June, with proceeds from the £2bn equity raised in May used to repay £600m of the Bank of England's Covid Corporate Financing Facility, as well as £201m in drawn credit facilities and £42m in maturing commercial paper.
As at 30 June, its total liquidity was £5bn, consisting of £2.8bn in undrawn credit facilities, £600m available under its Covid Corporate Financing Facility limit, and £1.6bn in cash.
Compass said its "solid financial position" would allow it to weather the crisis, while continuing to invest in the business to strengthen its competitive advantages, and support its long-term growth prospects.
Compass said trading in the third quarter was in line with the 'slow recovery' scenario it described in May.
"The pace at which our volumes will recover is still unclear, especially given a possible increase in local lockdowns.
"We are encouraged by the relative improvement in performance in June, as well as the early signs of an acceleration in first time outsourcing opportunities."
In the meantime, Compass said it was continuing to work with its clients to help them reopen safely, adding that it was proactively managing the business, reducing its costs, rebuilding its margins, and investing to strengthen its competitive advantages.
Looking further ahead, the board said it remained "excited" about the "significant" structural market opportunity globally, and the return to organic revenue growth, margin improvement and returns to shareholders over time.
"Trading has been challenging, but we continue to manage the business to protect the interests of all our stakeholders, including our people and the communities in which we operate," said group chief executive officer Dominic Blakemore.
"We are working with our clients to help them reopen and bring their teams back safely."
Blakemore said the company was also seeing "encouraging signs" of an acceleration in first-time outsourcing opportunities.
"Our focus on operational execution, our scale, and our strengthened balance sheet will enable us to succeed in this new environment and further consolidate our position as the industry leader in food services."
At 0822 BST, shares in Compass Group were down 2% at 1,055p.