Card Factory hails improvement in sales performance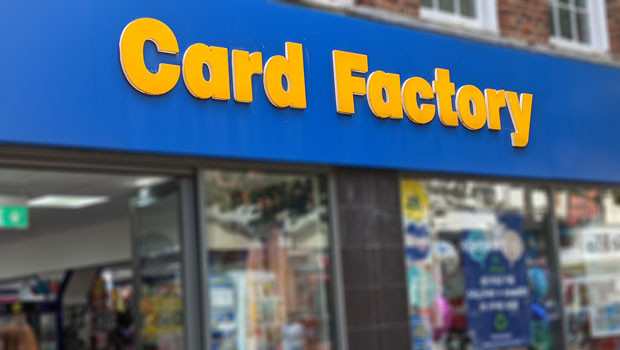 Greeting cards retailer Card Factory reported an improvement in sales on Monday, with customers responding well to its Christmas offering.
The group said that since its interim results in September, two-year like-for-like sales have shown "gradual improvement". Two-year store LFL sales were down 3% for the quarter to 31 October.
Average basket value over the quarter continued to exceed pre-pandemic levels, up 22.5% on a two-year LFL basis and offsetting lower transaction numbers.
Card Factory said online trading was in line with its expectations, with the stronger performance of Getting Personal offsetting a drop in sales from cardfactory.co.uk. Both brands continue to perform ahead of pre-pandemic levels.
The company said customers are responding well to the Christmas ranges, leading to the accelerated introduction of the third phase of Christmas cards and complementary products into approximately 350 stores. While a "relatively small" proportion of products sourced from the Far East is subject to supply chain delays, Card Factory said its contingency planning will ensure any delays to store deliveries are "minimised and short lived".
Chief executive officer Darcy Willson-Rymer said: "We continue to see improved performance of the business as customers steadily return to shopping in stores. This gives us confidence as we engage to realise the refreshed strategy and build our omnichannel offering.
"We look forward to the future and the continued implementation of our strategy. We are confident that the group is well placed to take advantage of the growth opportunities available to it."
Broker Liberum, which rates the shares at 'buy', said: "The continued steady trading recovery is good news, as is the encouraging start to the Christmas period. That said, being in line with expectations we do not expect any material changes to consensus forecasts today.
"We continue to set our forecasts prudently looking for a roughly break-even profit before tax in FY22 (y/e Jan), improving to £28.3m in FY23. The y/y improvement in net debt is also a positive, highlighting both the trading recovery vs prior year and management's good cash control."
Liberum said the shares remain cheap but the market appears to be waiting for an update on the fundraising before applying a more generous valuation.
"Longer-term, we continue to see material upside to the share price, as the balance sheet is improved and profit recovers driven by improvements to the store offer, online growth and more capital-light retail partnerships (including international)," it said.