BP and Daimler partner to roll-out hydrogen network for UK freight transport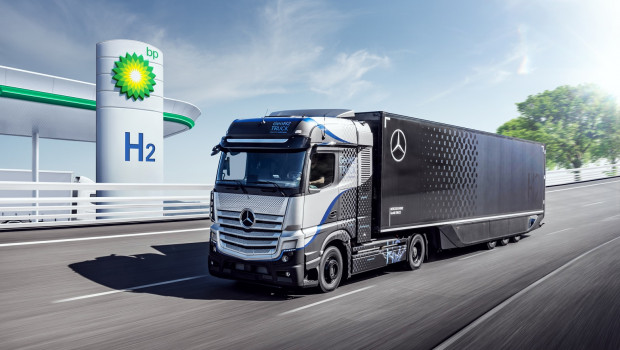 BP and Daimler will work together to accelerate the introduction of a hydrogen network with the aim of decarbonising UK freight transport.
As part of their plans, they will pilot both the development of the necessary infrastructure and the introduction of fuel-cell trucks.
Under the terms of their memorandum of understanding, BP will assess the feasibility of building and operating as many as 25 hydrogen refuelling stations across the country by 2030.
"Hydrogen is critical to decarbonizing hard-to-abate sectors – and for heavy and long-distance freight it is sometimes the only answer," said Emma Delaney, BP's executive vice president for customer and products.
"Working with a leading manufacturer like Daimler Truck AG we can accelerate the deployment of both vehicles and infrastructure and pioneer the use of hydrogen to fuel the next generation of UK freight."
BP would supply the 'green hydrogen' for the stations generated from water using renewable power.
The company already had 11,000 electric vehicle charging points globally and had plans to expand its network to 70,000 by 2030.
Nevertheless, the present MoU was one of the first steps to deploying hydrogen for transport.
For its part, Daimler would supply hydrogen-powered fuel-cell trucks to its UK customers starting from 2025.
Its stated intention was to only offer C0-2 neutral vehicles in driving operation in Europe, North America and Japan by 2039.