Big Yellow returns to 'more normalised' third quarter trading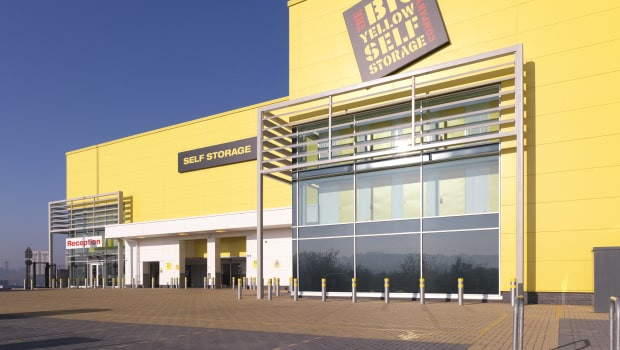 Big Yellow Group reported a 30% improvement in total revenue in its "seasonally weaker" third quarter on Monday, to £45.2m, as like-for-like store revenue improved 13% to £38.3m.
The FTSE 250 self-storage operator said total revenue for the year-to-date to 31 December was ahead 26% at £127m, with like-for-like store revenue for the first three quarters growing 14% to £112m.
Occupancy across all of its 104 stores decreased by 245,000 square feet, or 4% of its maximum lettable area, compared to a loss of 21,000 square feet in the same quarter last year, or 0.4% of the maximum lettable area as at 31 December 2020, and a loss of 193,000 square feet, or 3.3%, in the same period in 2019, pre-pandemic.
Big Yellow said the quarter saw a return to a "more typical" seasonal winter slowdown, noting that last year was impacted by Covid-19 restrictions, and thus a more sensible comparison was to 2019.
Move-outs were higher over the quarter than in 2019, reflective of a record first quarter occupancy gain leading up to the tapering off of the stamp duty holiday.
Customers moving out in the quarter stayed with the firm for an average of eight months, reflective of shorter-term use around house moves, home improvements, students and other life events.
Closing occupancy for all stores was 85.5%, which was an increase of 2.9 percentage points from 82.6% last year, while like-for-like closing occupancy was 86.9%, up 1.5 points from the same time last year.
Closing net achieved rent per square feet for all stores was £29.41, an increase of 11% from the same time last year, with average rate up 11% on the same quarter last year.
On the development front, Big Yellow opened its new 73,000 square foot store in Hayes, west London on Monday, and added that it was currently on site at four of the stores in its development pipeline.
The company said there had been "minor delays" as a result of pandemic impacts, with the openings now expected to be in April for Hove, July for Harrow), August for Kingston North, and in the summer of 2023 for Kings Cross.
During the quarter, as it had previously announced, Big Yellow obtained planning consent on its development sites at Slough and Newcastle.
It also obtained planning consent to increase the size of its proposed Queensbury store to 71,000 square feet, from the previously-consented 58,000 square foot scheme.
The firm said it was continuing planning discussions on its other development sites, and would provide further updates in due course.
Finally, looking at the recent Omicron-fuelled wave of Covid-19, which first impacted London, Big Yellow said it saw a peak of 7% of its colleagues isolating in early January, which had reduced to 2% in the last week.
"We are pleased to have delivered a continued strong performance in revenue growth for the quarter," said chief executive officer James Gibson.
"The occupancy performance this quarter has been more in line with 2019 and is a return to our more normal seasonal trading patterns.
"Although it is early in the fourth quarter, we are seeing a return to growth in net reservations and occupancy."
Gibson said average occupancy over the quarter was higher than the prior year, with the company also seeing a "strong contribution" from average rate growth, which had shown a further improvement from the half-year.
"As stated in November, we expect the market to return to a more normalised trading environment over the coming months.
"The acquisition, on 1 July, of the 80% interest in Armadillo that we did not own is earnings accretive, and we are seeing the benefits of that, coupled with external growth in revenue and earnings from the 260,000 square feet of space in the four new stores we have opened in the past 18 months.
"We remain confident of the longer-term growth prospects of our business; the principal drivers being revenue growth from the existing portfolio and targeted expansion in our core area of London, its commuter towns and larger regional cities."
At 0926 GMT, shares in Big Yellow Group were up 0.77% at 1,556p.