Bellway resumes dividend as house orders bounce back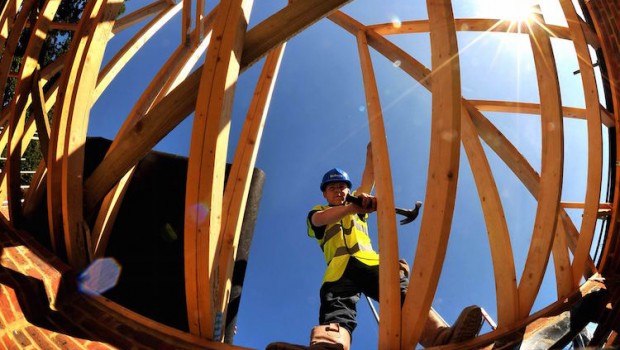 Housebuilder Bellway returned to dividend payouts as reservations rose by a third at the start of the new financial year and despite annual profits falling 66% due to the coronavirus shutdown.
Overall reservations were up by 30.6% to 239 per week in the nine weeks since 1 August. The forward order book at October 4 was £1.86bn compared to £1,311.6bn in 2019.
Pre-tax profits fell to £236.7m from £666.2m on revenue down 30.7% to £2.2bn. The total dividend was cut to 50p a share from 150p a year earlier, but still a welcome return for investors after dividends were scrapped amid the coronavirus pandemic.
Bellway added that it expected to increase the quantum of future dividend payments over time.
"Aside from the constraints to trading activity as a result of COVID-19, the market remained strong for good quality, affordably priced homes," the company said.
Bellway said it expected to complete the sale of around 9,000 homes at an expected average selling price of around £290,000 for the year to July 31, 2021.
Bellway was forced to shutter operations in March due to Covid-19 restrictions and reopened in May. Completions fell 31% to 7,722 in the year to end July 2020.
The company took a £46.8mln exceptional charge for remedial fire safety repairs in apartment blocks plus an extra £25.8mln for coronavirus protection measures.
AJ Bell investment director Russ Mould said the return of dividends "albeit at a reduced level, represents the restoration of one of the key foundations of its investment case and is reflective of the big recovery in demand experienced across the housebuilding sector".
"The key question facing the company now is whether the favourable backdrop created by pent-up demand and a stamp duty holiday can last," he said.
"A strong order book provides some visibility into next year but Bellway and the rest of the industry may be left crossing their fingers that Chancellor Rishi Sunak will extend support for the property market in 2021 given the looming jobs crisis in the UK.
"It also has a strong balance sheet and it has returned to land buying. This investment could pay off in a recovery scenario, with houses built on land bought at more depressed levels likely to generate higher levels of profitability."