BAE Systems shares rise on news of possible Saudi Typhoon purchase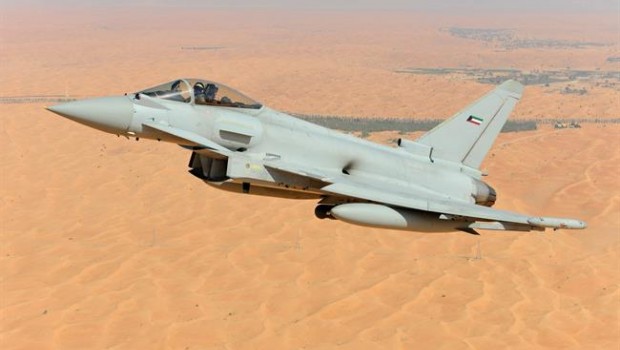 The Kingdom of Saudi Arabia moved a step closer to ordering another batch of Eurofighter Typhoon aircraft on Friday.
The multi billion-pound deal has been under discussion for years, with the news of its possible completion coming on the final day of Crown Prince Mohammad bin Salman to the UK.
In a statement confirming the news, BAE Systems said: "This is a positive step towards agreeing a contract for our valued partner. We are committed to supporting the kingdom as it modernises the Saudi Armed Forces and develops key industrial capabilities critical to the delivery of Vision 2030."
Against the backdrop of an increasingly fractious Middle East, should it finally materialise, the latest order would come on top of a previous one from the Kingdom for 72 jets, delivery of which began in June 2009.
Regional allies of Saudi, Kuwait and Oman had also ordered Typhoons.
The Typhoon is manufactured by an international consortium comprising BAE, Airbus and Italy's Leonardo.
According to Airbus, a total of 519 Typhoons were in operation across eight countries, with a total of 747 orders having been placed for the aircraft since it first took to the skies.
A spokeswoman for BAE Systems was careful to clarify to WebFG UK that today's news marked a step forward, paving the way for contractual negotiations to start, but did not yet equate to a new firm order.
Positively, an order with Saudi, on top of last December's deal to supply another 25 Typhoons to Qatar - for a reported £5bn - would help to sustain the production line for the jet but, unfortunately, as things now stood, they would not stave off the recently announced job cuts in the UK linked to the slower production rates put in place last year at the end of the line, she added.
At present, roughly 5,000 people at BAE were involved in the Typhoon project.
Commenting on the news, in a research note sent to clients analysts at JP Morgan highlighted the lack of detail around when the formal contract would be signed.
Assuming a handful of deliveries in 2019 and eight per year between 2020 and 2024, then the broker's estimates for BAE's earnings per share might get a lift of between 2% and 4% in 2019 and 2020, possibly more if weapons were also provided, they said.
In that same note they also point out the hole in the company's delivery schedule for Eurofighters for 2019- 2020.
JP Morgan also draws attention to how BAE's commitment to pay roughly £700m of dividends per year, leaves little left over for investment, M&A or buybacks.
Having said that, just three weeks before the broker had voiced its concerns that Saudi would not order any EFs over the coming year.
"BAE is proud of 14 years or rising dividends yet over this timeframe it has significantly underperformed its US defence peers and we wonder whether the commitment to such a large dividend is the right strategy."