AstraZeneca upbeat on developments for Lynparza, Enhertu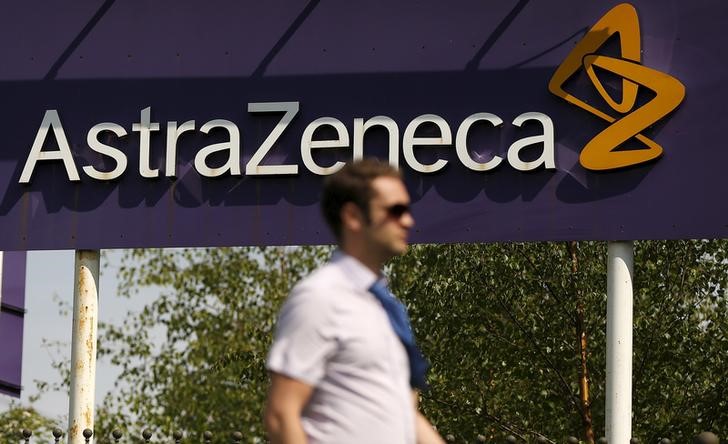 AstraZeneca, alongside its partner MSD, announced on Monday that 'Lynparza', or olaparib, in combination with bevacizumab has been approved in the United States for the maintenance treatment of adult patients with advanced epithelial ovarian, fallopian tube or primary peritoneal cancer.
The FTSE 100 pharmaceutical giant said it was specifically for those patients who are in complete or partial response to first-line platinum-based chemotherapy, and whose cancer was associated with homologous recombination deficiency (HRD)-positive status, defined by either a deleterious or suspected deleterious BRCA mutation, or genomic instability.
Patients would be selected for therapy based on an FDA-approved companion diagnostic test.
At the same time, AstraZeneca and Daiichi Sankyo said their 'Enhertu', or trastuzumab deruxtecan, has been granted 'breakthrough therapy designation' in the US for the treatment of patients with HER2-positive unresectable or metastatic gastric or gastroesophageal junction adenocarcinoma, who have received two or more prior regimens, including trastuzumab.
Finally, it also announced the completion of a previously-communicated agreement to recover the global rights to brazikumab, formerly MEDI2070, which it described as a monoclonal antibody targeting IL23, from Allergan.
On the broader approval for Lynparza in ovarian cancer, AstraZeneca said patients would be selected for therapy based on an FDA-approved companion diagnostic test.
It said the approval by the US Food and Drug Administration (FDA) was based on a biomarker subgroup analysis of the phase 3 'PAOLA-1' trial, which showed that Lynparza in combination with bevacizumab maintenance treatment reduced the risk of disease progression or death by 67%.
The addition of Lynparza improved progression-free survival to a median of 37.2 months, compared to 17.7 months with bevacizumab alone in patients with homologous recombination deficiency (HRD)-positive advanced ovarian cancer.
About one in two women with advanced ovarian cancer has an HRD-positive tumour, it noted.
For patients with advanced ovarian cancer, the primary aim of first-line treatment was to delay disease progression for as long as possible, with the intent to achieve long-term remission.
"This approval represents another milestone for Lynparza in patients with ovarian cancer," said executive vice-president of the oncology business unit, Dave Fredrickson.
"The median progression-free survival of more than three years offers new hope for more women to delay relapse in this difficult-to-treat disease.
"These results further establish that HRD-positive is a distinct subset of ovarian cancer, and HRD testing is now a critical component for the diagnosis and tailoring of treatment for women with advanced ovarian cancer."
On the breakthrough therapy designation for Enhertu, AstraZeneca said it was designed by the FDA to accelerate the development and regulatory review of potential new medicines that are intended to treat a serious condition, and address a significant unmet medical need.
The new medicine needed to have shown encouraging early clinical results that demonstrate substantial improvement on a clinically significant endpoint over available medicines.
It said gastric cancer is the third leading cause of cancer mortality, with a five-year survival rate of 5% for metastatic disease, with about one in five gastric cancers considered HER2 positive.
"Current therapy options are limited for patients with HER2-positive metastatic gastric cancer and for those who relapse, there are no approved HER2-targeted medicines," said José Baselga, executive vice-president of oncology research and development.
"We look forward to working with the FDA to further explore the potential of Enhertu to become an important new treatment and the first antibody drug conjugate for this devastating disease."
Finally, on the recovery of the rights to brazikumab, AstraZeneca said itself and Allergan had now terminated their previous license agreement, with all rights to brazikumab thus returning to AstraZeneca.
Under the termination agreement, Allergan would fund up to an agreed amount, estimated to be the total costs expected to be incurred by AstraZeneca until completion of the development of brazikumab for Crohn's disease (CD) and ulcerative colitis (UC), including the development of a companion diagnostic.
"Pursuant to the 2012 collaboration between Amgen and AstraZeneca to jointly develop and commercialise a clinical-stage inflammation portfolio, including brazikumab, Amgen is entitled to receive a high single-digit to low double-digit royalty on sales of brazikumab if approved and launched," the board said in its statement.
"This includes the original inventor royalty.
"Other than this, AstraZeneca will own all rights and benefits arising from the medicine with no other payments due to Amgen or Allergan."
At 0845 BST, shares in AstraZeneca were up 0.54% at 8,605p.