Green's Arcadia fends off administration as landlords approve rescue plan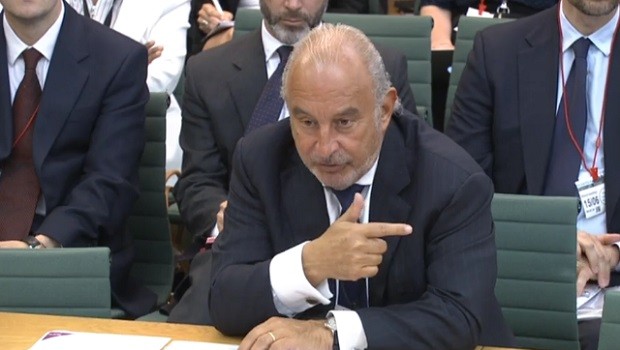 Philip Green's Arcadia Group managed to avoid administration after the group's creditors approved a complex restructure plan in a key vote on Wednesday that will see 1,000 job losses and 50 stores shut.
Landlords of properties that house stores such as Topshop, Dorothy Perkins, Wallis, Evans, Outfit and Miss Selfridge agreed to seven Company Voluntary Arrangements - in effect rent cuts - to save 17,000 jobs.
The narrow win for Green came after he won support from the Pensions Regulator, the group's pension fund trustees and the pension protection fund, an industry-backed lifeboat for collapsed companies' savings schemes and the Crown Estate, which manages the royal family's property interests.
However, major shopping centre owner Intu voted against the deal. The firm - which owns Lakeside shopping centre, the Trafford Centre and Manchester Arndale, said the rationale for its rejection was "clear".
"We firmly believe that the terms of the Arcadia CVA are unfair to our full rent paying tenants and not in the interests of any of our other stakeholders, including Intu shareholders and the 130,000 people whose jobs rely on the success of our prime shopping centres," the company said in a statement.
"While we are disappointed with the outcome of today's vote, we will work constructively with Arcadia to achieve the best outcome for both sides."
Green's wife Tina, officially Arcadia's owner, last week agreed to put £100m into the group's pension scheme over three years alongside a £285m contribution in property assets and cash payments from the company.
The former billionaire used a football analogy to describe his late reprieve.
"It is good to know there is still support out there for the business, for my family and for me. Even if you score in the 95th minute, a win is still a win," Green told Sky News.
The group of creditors met in London on Wednesday to decide whether to accept the revised deal. A vote was last week postponed dramatically when it became clear that property owners were refusing to bow to Green's demands they take a rent cut or he would place Arcadia into administration.
Green needed at least 75% of creditors to agree the CVAs. Last week he was asking for rent cuts of up to 70% on 200 stores in return for small stakes in his business. Under new terms the requested cuts fell to 25% - 50%.
The support of the Crown Estate, while significant, was also conditional.
"While we have voted in favour, we have done so to secure our ability to take control where we feel that a better offer can be delivered for our destinations," it said in a statement.
"This may include re-letting our spaces to new retailers who are more aligned with our ongoing commitment to creating great places for local communities."
Many landlords feared other tenants will demand similar terms in a High Street environment that is struggling to cope with increased internet shopping, lower footfall, and depressed consumer spending caused by Brexit.
They were also reluctant to give in to Green when he is travelling the Mediterranean on his £100m boat Lionheart with his wife.
The Green's decision to take a £1.2bn dividend from the business in 2005 did not win admirers among property owners either.
However, the other side of the coin for landlords risked the collapse of Arcadia, with empty stores and no rental income in a tough trading environment, something Green hopes will swing votes his way. He needs 75% of creditors to accept the deal for it to go through.
In a statement, Arcadia chief executive, Ian Grabiner, said: "After many months of engaging with all our key stakeholders, taking on board their feedback, and sharing our turnaround plans, the future of Arcadia, our thousands of colleagues, and our extensive supplier base is now on a much firmer footing."
"I am confident about the future of Arcadia and our ability to provide our customers with the very best multi-channel experience, deliver the fashion trends that they demand, and ultimately inspire a renewed loyalty to our brands that will support the long-term growth of our business."