Anglo Asian raises production target as profits surge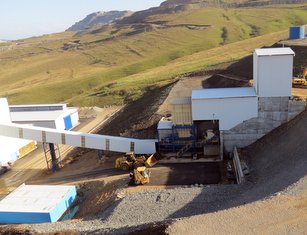 Anglo Asian Mining set a higher production target for 2018 after booming production drove profit sharply higher in 2018.
Pre-tax profit for the year to the end of December more than quadrupled to $25.2m (£19.7m) from $5.7m as revenue rose 26% to $90.4m.
Annual production rose 17% to 83,736 gold equivalent ounces (GEOs) - close to the top of the Azerbaijan-focused miner's forecast of 78,000 to 84,000 GEOs. Anglo Asian set a production target for 2019 of 82,000 to 86,000 GEOs and the company said it was on track to meet its goal.
Gold bullion sales rose to 59,481 ounces from 43,496 ounces at an unchanged average price of $1,265 per ounce as the cost of gold production fell. The company's performance left it with net cash of $6.1m at the end of 2018 compared with net debt of $18.1m a year earlier.
Chairman Khosrow Zamani said: "It is a great pleasure to report on a truly transformational year for Anglo Asian. All our hard work in previous years came to fruition and this delivered both record production and an outstanding financial performance."
Anglo Asian shares rose 7.5% to 101p at 11:41 BST.