AJ Bell first-quarter AUA jump, 'well positioned' for further growth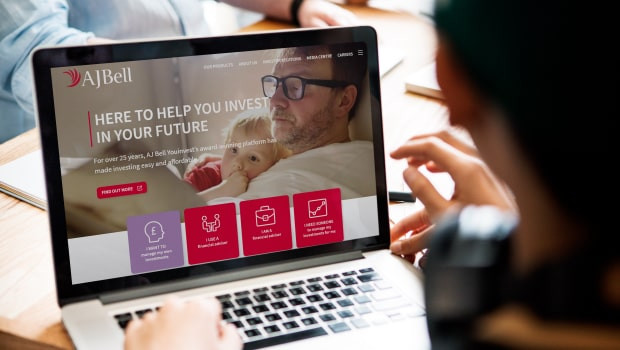 Investment platform AJ Bell said on Thursday that it was well positioned to deliver further growth as it posted a jump in first-quarter assets under administration.
In an update for the three months to the end of December, the company said total customer numbers rose 27% over the last year and 4% in the quarter to 398,066, with total net inflows of £1.3bn. Meanwhile, total assets under administration were up 21% over the year and 4% in the quarter to £75.6bn. Over the same quarter the FTSE All-Share Index rose 3.7%.
"This performance was delivered against a very different market backdrop to that seen in the comparative quarter last year, when stricter government restrictions helped to drive AJ Bell's total customer growth, gross inflows and net inflows to record levels," it said.
"The continued growth in Q1 evidences the resilience of the AJ Bell business model in different market conditions and was again driven by the company's platform propositions and investment business."
In the platform business, customer numbers increased 15,309 in the quarter to 383,274, up 29% in the last year and 4% in the quarter. At the same time, AUA rose 23% in the last year to £68.1bn, and were up 4% in the quarter.
Net inflows of £1.4bn were down 7% on the prior year. AJ Bell put this down to an exceptional bulk annuity purchase, signalled in the FY21 year-end trading update in October, which resulted in a one-off outflow of £241m from both advised platform AUA and AJ Bell Investments AUM in the quarter.
In AJ Bell Investments, AUM closed at 2.1bn, up 110% over the last year and down 5% in the quarter due to the exceptional outflow. Excluding the impact of the one-off outflow, underlying net inflows in the quarter were £182m, versus £147m in 2020.
Chief executive officer Andy Bell said: "We have had a solid start to our new financial year with customer numbers, gross inflows and assets under administration all growing steadily. We continue to see strong demand for our easy to use, low-cost platform across both the advised and direct-to-consumer markets."