Acacia Mining plays waiting game as parent ups Tanzania tax provisions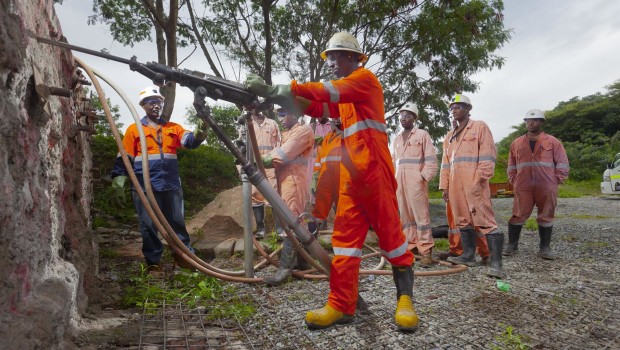 Acacia Mining's parent company Barrick Gold has more than doubled provisions for potential back tax charges in Tanzania, where the London-listed company has been embroiled in a dispute with the government since March.
In Canadian-based Barrick's third quarter results released on Wednesday night, further detail was provided about the proposed framework agreed between Barrick and Tanzania's government, in including that a detailed proposal will be made to Acacia for review during the first half of 2018.
Barrick, which owns almost 64% of Acacia's shares, increased its existing tax provision for Acacia's "historical uncertain tax positions" from $128m to $300m, which incidentally is the amount Barrick agreed will be paid to the government of Tanzania by Acacia as part of the proposed framework agreed last week.
Acacia said it does not intend to make any changes to its own provision of $128m as a result of Barrick's proposed framework.
"Once Acacia has received and had the opportunity to assess a detailed proposal, Acacia will also be able to assess the potential impact on Acacia's historical uncertain tax positions."
The tax positions refer to the claim from the Tanzania Revenue Authority that Acacia owes around $40bn of unpaid taxes, and a related $150bn of penalties and interest, as a result of Presidential Committee investigations that claimed to have found Acacia was under-declaring its gold and copper exports, which was disputed by the company and found highly questionable by analysts in London.
Tanzania also proposed and then voted through new legislation to ramp up mining royalties and take 16% free-carry interest in foreign mining companies, though Acacia has referred its disputes with the government to arbitration.
After Barrick last week shook hands with Tanzania's minister for justice and constitutional affairs, Palamagamba Kabudi, on a framework agreement to resolve the Acacia dispute, a proposal that is subject to review and approval by Acacia, in its results statement the Canadian company said it believed the deal was the "optimal path" for the resumption of normal operations.
"Such a partnership has the potential to provide greater near-term certainty to Acacia and Barrick shareholders, and mitigate risk of future business disruptions; thereby improving the long-term stability and sustainability of Acacia's operations in Tanzania."
Barrick and Magufuli agreed for revenues from Acacia's operations would be split on a 50/50 basis, with the government's portion delivered in the form of royalties, taxes, and the 16% free carried interest, with a new Tanzanian operating company created to manage the three mines, Bulyanhulu, Buzwagi, and North Mara, and the local government participating in decisions related to operations, investment, planning, procurement, and marketing.
"Having agreed on a proposed partnership framework, the government of Tanzania and Barrick have created a working group to resolve outstanding tax matters relating to Acacia.
"In support of the working group's ongoing efforts, the proposed framework agreed between Barrick and the government of Tanzania provides for the payment of $300m to the government of Tanzania by Acacia, on terms to be settled by the working group. Given Acacia's current financial position, these payments would be made over time, using Acacia's ongoing cash flows. As such, payment would be also conditional on Acacia's ability to sell doré and concentrate," Barrick said.
Shares in Acacia were up 3% to 190.14p on Thursday morning, still down more than two thirds since 1 March.
Analyst Yuen Low at broker Shore Capital called for Acacia to "proceed with arbitration in the interests of justice and precedent" as the investigations and assessments on which Tanzania was basing its claims were "patently dubious" if not "ludicrously ridonculous".
"In the interests of justice and precedent, we will be extremely disappointed with Acacia if it chooses not to proceed with arbitration."
He said for other mining companies not already invested in Tanzania, the government's action "essentially puts the county off-bounds for at least the duration of the Magufuli administration."
Hunter Hillcoat at Investec said it was "an odd situation, Acacia being outside of the discussions between Barrick and the Tanzanian government.
"It's a bit like parents in consultation with the headmaster over a wayward child. The parents are directly responsible for the position the child is in and the headmaster has an agenda only he can know, but it is the child that is in detention and facing the cane."