UK trade deficit widens in June, with weak pound boosting import prices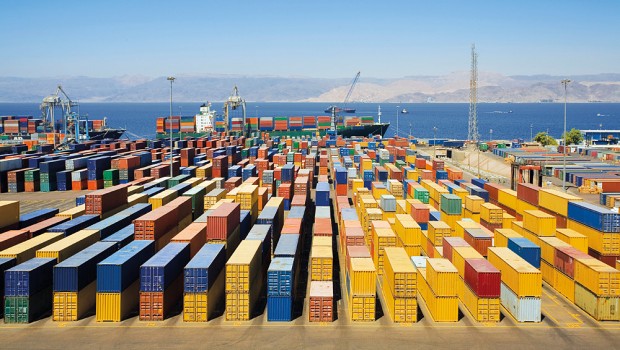 The UK´s shortfall on international trade worsened in June, with economists saying that exports had yet to react to the weakening seen in the pound, which in the very short-term in fact had the effect of making imports more expensive, thus adding to the deficit.
The country´s total balance of trade, for both goods and services, that is, worsened from a revised deficit £4.2bn in May to £5.1bn for June, as a £1.0bn increase in exports was outpaced by a £1.9bn gain in imports, with the latter reaching a record high of £48.9bn, according to the Office for National Statistics.
Economists had forecast a deficit of £2.6bn.
May´s tally for the total trade deficit was originally estimated at -£2.3bn.
In terms of quarterly rates of change, the total trade deficit worsened by £0.4bn to hit £12.5bn, ONS said.
Britain´s visible trade balance, the difference between sales and purchases of goods from overseas, increased in June by £0.9bn to $12.4bn (consensus: -£10.1bn), as imports grew £1.8bn to reach £37.0bn while exports did so by £1.0bn to £24.6bn.
June´s deficit on the services trade balance was steady month-on-month at -£7.3bn.
Over the second quarter as a whole, the deficit in goods edged up by £0.1bn as both exports and imports expanded by £4.1bn, with exports accelerating by 5.8% and imports rising by 4.0%.
During that same period of time, the UK´s trade position on the goods balance versus countries from outside the European Union improved £0.3bn to reach £10.4bn, as exports jumped by 6.2%. However, that was offset by a wider shortfall versus the EU, with the gap widening by £0.4bn to £23.9bn.
Also in terms of quarterly rates of change, the surplus on Britain´s trade in services narrowed by £0.4bn to £21.9bn, with exports off by £0.3bn.
"The trade deficit likely will remain bloated in the near-term, as sterling's depreciation will continue to make imports dearer. Previous sterling depreciations typically have taken two years to boost net trade, as it takes time for contracts to be renegotiated and exporters to invest in new capacity.
"What's more, we fear that the trade boost could take even longer than usual to materialise this time, because exporters will be very reluctant to invest until the U.K.'s future trade arrangements are known. In short, hopes that exports will surge and offset the Brexit hit to domestic demand seem misplaced," said Samuel Tombs, chief UK economist at Pantheon Macroeconomics.
Ruth Gregory, UK economist at Capital Economics, chipped in: "the surveys point to little annual export growth in the coming months. Granted, sterling's fall since the referendum will help in time. But any improvement will probably be slow against a background of fairly sluggish global growth and uncertainty about future trade relationships between the UK and other countries."
Tombs pegged the drag from net trade on the rate of growth of gross domestic product in the second quarter at one tenth of a percentage point, but Gregory believed it could be as much three tenths of a percentage point.