UK manufacturing continues to struggle amid political turmoil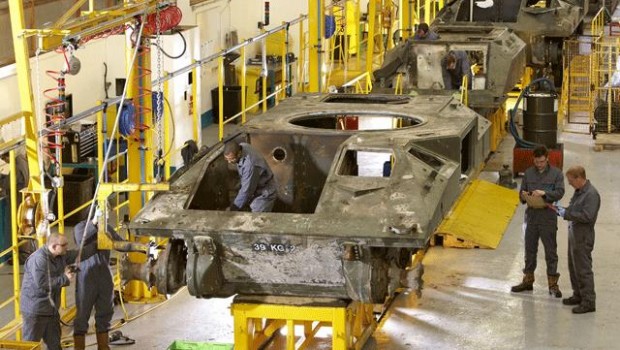 Activity in the UK manufacturing sector shrank in November as political uncertainty undermined confidence.
The IHS Markit/CIPS UK manufacturing purchasing managers' index was 48.9 last month, down from October's 49.6 though a slight improvement on the initial flash estimate for November of 48.3. The consensus was also for 48.3.
The sector has now recorded a reading below 50.0 for seven successive months, however. Anything above 50.0 indicates growth while anything below signals contraction.
Output, new orders and employment all fell. Stockpiles accrued ahead of the now-delayed 31 October Brexit deadline were also run down.
Rob Dobson, director at IHS Markit, said: "November saw UK manufacturers squeezed between a rock and hard place, as the uncertainty created by further delay to Brexit was accompanied by growing paralysis ahead of the forthcoming general election.
"Downturns in output and new orders continued amid a renewed contraction in exports. The pace of job losses also hit a seven-year high, as firms sought to reduce overheads in the face of falling sales."
Duncan Brock, group director at the Chartered Institute of Procurement and Supply, said: "Supply chain managers cited weakened domestic demand and one of the biggest falls in export orders for seven years as companies unravelled their pre-Brexit stocks, resulting in one of the steepest reduction in purchasing since 2013.
"With this backdrop of pressure, the sector's performance is unlikely to change any time soon, which means a bleak beginning for the industry in 2020."
Samuel Tombs, chief UK economist at Pantheon Macroeconomics, said: "Amid this volatility, we see tentative signs that underlying demand is recovering; both new orders and output expectations balances increased to their highest levels since May, mirroring the slight recent improvement in the eurozone's manufacturing PMI.
"But for now, firms are not confident enough about the business outlook to hire more workers: the employment balance remained marginally below 50 for the eighth consecutive month.
"In addition, the sector likely will miss out on any rally in economic activity driven by a reduction in political risks in the first half of next year, given the threat that manufacturers will have to export under WTO terms from the end of 2020."
David Cheetham, chief market analyst at XTB, noted that the latest reading bettered most expectations. But he added: "However, this is largely due to pessimistic forecasts, and the PMI remains in contractionary territory for the seventh consecutive month. Given these conflicting trends, quite different messages can be taken from the data, but overall, it is probably fair to say that while there has been an improvement in recent months, the big picture still looks pretty bleak."