UK inflation hits fresh record high in June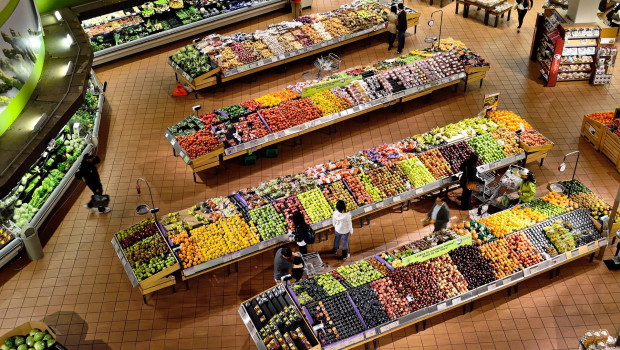 Inflation has hit a fresh record, official data showed on Wednesday, climbing to 9.4% on the back of surging food and fuel prices.
The Office for National Statistics said consumer price index inflation rose by 9.4% in the 12 months to June, up on May's 9.1% and slightly above consensus expectations of 9.3%.
The highest figure since the National Statistics series began in January 1997, the ONS said that its modelling suggested the rate would have last been higher around in 1982, where estimates range from nearly 11% in January and 6.5% in December.
Food and fuel prices drove the increase. The ONS said that food and non-alcoholic drinks rose by 9.8% in the year to June, up from 8.7% in May and the highest since March 2009, while petrol and diesel prices surged 42.3%, the highest rate since before the start of the historical series in January 1989.
Transport costs overall were 15.2% higher.
Core inflation, with strips out the volatile energy and food, alcohol and tobacco elements, eased to 5.8% from 5.9% in May, in line with expectations.
Including owner occupiers' housing costs, CPIH rose by 8.2%, up from 7.9%, the highest since March 1991, when it was 8.3%. The biggest drivers behind the hike in CPIH was housing and household services, and transport.
Anna Leach, deputy chief executive at the Confederation of British Industry, said: "The labour market is still tight, global price pressures strong and another rise in Ofgem's energy price cap is in the offing. As a result, inflation is likely to stay high for the rest of this year, severely eating into strained household incomes."
Helen Dickinson, chief executive of the British Retail Consortium, said: "Food prices have been sharply hit by soaring global commodity prices and the rising costs of animal feed and fertilizer, both exacerbated by the war in Ukraine.
"Across the board, non-food products are being impact by haulage and shipping costs while surging energy prices are making stores increasingly expensive."
On Tuesday evening, Andrew Bailey, the governor of the Bank of England, said in a Mansion House speech that the Monetary Policy Committee was considering a potential 50 basis point rise in interest rates when it next meets.
So far this year, the Bank has increased rates five times but on a quarter-point basis.
Bailey told the City audience: "Let me be quite clear: there are no ifs or buts in our commitment to the 2% inflation target. That's our job, and that's what we will do."
Laura Suter, head of personal finance at AJ Bell, said: "Another larger-than-expected increase in inflation is turning up the heat on the UK's economy, and on the spending power of the nation. It could also be the signal for the BoE to hike rates by 0.5% next month, less than 24 hours after Bailey said he was prepared to take stronger action.
"It's the same story as previous months: petrol, home energy bills, food prices and mortgage costs are all pushing up the inflation rate as they keep heading upwards. This highlights the BoE's conundrum, as one of the biggest contributors to inflation at the moment is mortgage costs, which are a direct result of the rate setting increasing the base rate significantly since December."
Victoria Scholar, head of investment at Interactive Investor, said: "It was only last July that inflation was comfortably sitting at the BoE's 2% target. The sharp ascent has seen inflation come close to double digits, with the expectation that price levels will push higher still.
"It looks like the central bank could carry out a 50bp hike in August, which would be the largest since 1995.
"With price levels in the UK spiralling out of control and wages struggling to keep apace, the biggest risk is that the BoE fails to act aggressively enough and inflation becomes entrenched."
However, Samuel Tombs, chief UK economist at Pantheon Macroeconomics, said: "The MPC likely will place weight on the drop in core CPI inflation, as this is informative of the underlying state of the economy and the extent to which a high inflation psychology is becoming embedded.
"Goods prices are rising less quickly that a year ago, even though producer prices have rocketed, due to a decline in demand; retail sales volumes in June probably were about 6% lower than a year ago."
Pantheon expects a "narrow majority" of MPC members to vote in favour of a 25bp rise next month, with the current hiking cycle to finish with one further 25bp rise in September.
On a monthly basis, CPI rose by 0.8% in June, compared to a rise of 0.5% in June 2021, while CPIH increased 0.7% against a 0.4% rise a year previously.