UK economy stagnates under weight of political turmoil, pound drops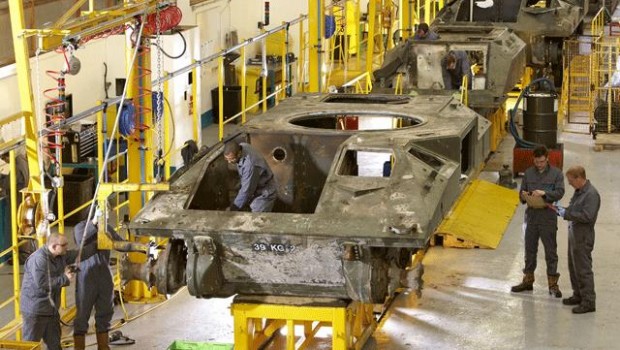 The latest government data showed that Britain's economy shrank unexpectedly in November, sending the pound lower, but some economists were more upbeat, pointing to upwards revisions to past data to back up their assessment.
The Office for National Statistics said GDP fell by -0.3% month-on-month in November, below analysts' forecasts for no change. Weak industrial production and manufacturing were the biggest drags, falling by -1.2% and -1.7% respectively.
Service sector output meanwhile fell by -0.3%, while that of construction bounced back by 1.9%.
However, growth in October was revised upwards, to 0.1% from 0.0%, while for September it was marked up to 0.1% from -0.1% initially. That meant November's quarter-on-quarter growth rate came in above the consensus forecast for no change, at 0.1%.
The service sector edged ahead 0.1% during the quarter and construction by 1.1%, but production eased -0.6%.
Rob Kent-Smith, head of GDP at the ONS, said: "Overall, the economy grew slightly in the latest three months, with growth in construction pulled back by weakening services and another lacklustre performance from manufacturing.
"The UK economy grew slightly more strongly in September and October than was previously estimated, with later data painting a healthier picture.
"Long term, the economy continues to slow, with growth in the economy compared to the same time last year at its lowest since the spring of 2012."
Pound slips
The pound nevertheless fell on Monday as markets priced in 50.0% odds of a possible cut in Bank Rate when the Monetary Policy Committee next met, up from 47.0% before its release. It lost 0.6% against the dollar to $1.2979 and 0.5% against the euro, at €1.1671.
There has been growing speculation that the MPC will vote in favour of cutting rates when it next meets on 30 January.
Just one week before the chances of a reduction had been pegged at a negligible 5.0%.
External MPC member Gertjan Vlieghe told the Financial Times on Sunday he would vote for a cut if economic data do not improve, noting it would not "take much data to swing it one way or the other". Fellow external member Silvana Tenreyro also signalled on 10 January that she may back a cut, with outgoing BoE chief Mark Carney having also suggested that rates might be headed lower the day before.
Other economists more upbeat
Yet Samuel Tombs, chief UK economist at Pantheon Macroeconomics, cautioned against reading too much into the November figures.
"The latest GDP data are nowhere as horrendous as they appear initially," he argued. "Nearly all of November's fall was attributed to temporary weakness in the manufacturing and distribution sectors."
Tombs said the fall in manufacturing output "reflected both the impact of the October Brexit deadline on the timing of demand, and temporary closures of car plants.
"Meanwhile, the 0.9% drop in distribution output reflected the impact of the shift in the timing of Black Friday this year. Output in both the manufacturing and distribution sectors will rebound in December. This should ensure that quarter-on-quarter GDP growth in the fourth quarter comes in at 0.0%, only a bit below the MPC's 0.1% forecast."
Seamus Nevin, chief economist at Make UK, the manufacturers' body, said the sector had suffered as car factories temporarily shut down to avoid disruptions in the run up to the 31 October Brexit deadline, "combined with lower demand from overseas customers nervous that the UK would crash out of the EU without a deal.
"That scenario has now been avoided and the election has provided some clarity. That should help some firms to start investing again but it will take time for activities to get back to normal."
Cathal Kennedy, European economist at RBC Capital Markets, said: "November probably represents peak uncertainty for the UK economy. Brexit had just been delayed again, and the country was in the midst of what was predicted to be a close-run general election.
"What limited, mainly survey, data we have to hand suggest that the removal of those combined uncertainties has had a positive effect on consumer and business sentiment."
Chris Williamson, chief business economist at IHS Markit, said: "The latest data add to the signs that the UK economy stagnated at best in the fourth quarter as heightened political uncertainty, Brexit risks and weaker global demand all colluded to dampen spending by both business and households.
"The good news is that all these headwinds are showing signs of moderating, if not even turning into tail winds, as we move into 2020. However, downside risks remain elevated."