UK construction sectors suffers worst contraction since 2009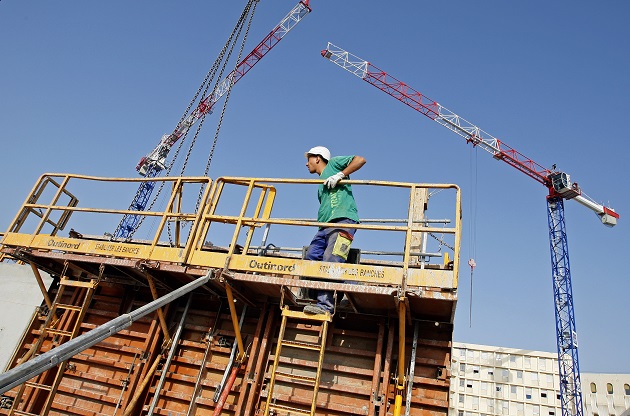 The UK construction sector suffered its worst contraction in March since April 2009 as the coronavirus pandemic took its toll, according to data released on Monday.
The IHS Markit/CIPS UK construction total activity index slid to 39.3 from 52.6 in February, coming in well below expectations for a reading of 44.0. A reading below 50.0 signals contraction, while a reading above indicates expansion.
Survey respondents "overwhelmingly" attributed the decline in activity to the impact of the Covid-19 pandemic, with all three broad categories of construction work recording a fall in output. Civil engineering activity suffered the steepest rate of decline, followed closely by commercial building work.
Employment fell at the fastest pace since September 2010 and business expectations slumped to the weakest level since October 2008.
Duncan Brock, group director at the Chartered Institute of Procurement & Supply, said: "The battered construction sector was offered a brief respite in February with a marginal rise in output after a difficult year, but any hope of a continuation of growth was mercilessly bulldozed away in March and construction companies registered their lowest levels of optimism since October 2008.
"As measures to contain the coronavirus Covid-19 pandemic were put in place across the UK, construction sites closed and builders lost their jobs on a frightening scale as overall activity fell to an extent not seen since April 2009. New orders were reduced to a trickle as the scale of the disease dawned on clients and lockdown severely hindered any further progress.
"With no upturn in sight, and with the fastest level of layoffs since September 2010, the sector is stuck in quicksand and sinking further."
Andrew Wishart, UK economist at Capital Economics, said: "The incoming data continue to confirm that the UK is destined for the sharpest fall in economic output for over a century in Q2. And the lowest consumer confidence reading since records began suggests that generating a strong economic recovery may not be as simple as ending the lockdown.
"We already knew that the composite PMI, which covers the services and manufacturing sectors, hit a record low of 36.0 in March. And today we found out that social distancing has also put the handbrake on construction activity."
He noted the survey doesn't include retail, which he said has done even worse judging by footfall data - with the exception of supermarkets.
"And the PMI is pretty much guaranteed to deteriorate further in April as the full effect of the lockdown is captured. Even then, we doubt it will capture the true scale of the loss of economic activity. We are currently forecasting a -15% q/q fall in GDP in Q2 but if anything, it could be larger."
Samuel Tombs, chief UK economist at Pantheon Macroeconomics, said: "If, as we expect, banks largely maintain the supply of credit to the economy and the government follows through on its plans for much higher levels of public sector investment, the construction sector should see a much swifter recovery than after the 2008/09 recession, when it took seven years for output to return to its prior peak."