Rising UK minimum wage 'puts jobs at risk of robot replacements'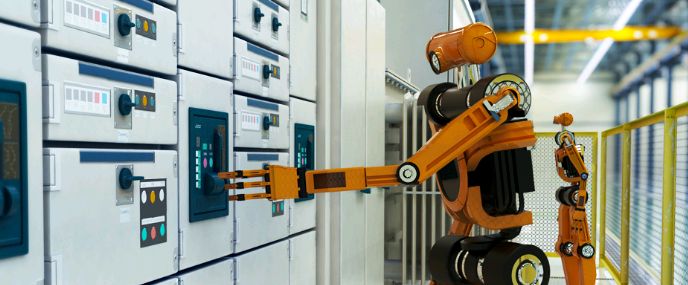 Further increases to the national living wage could lead to a number of positions being replaced by robots and computerised systems as an alternative to paying higher wages, an economic research group warned on Thursday.
The highly influential Institute for Fiscal Studies (IFS) stated that the above-inflation increases to the UK's minimum hourly wage would cover 12% of the population when it hit £8.50 by 2020, triple the number of Britons being paid a living wage when the scheme was initially introduced by former Chancellor George Osborne in 2015.
Labour pledged to go a step further in its 2017 election manifesto, promising a £10 per hour minimum wage across the UK.
While the thinktank pointed out that the 2015 statutory pay floor was primarily intended to protect those employed in the personal services sector, such as bar and restaurant staff, who did work that was not easily replicated by machinery, it noted that slightly higher paid jobs were at times easy to automate and that rising salaries had given employers cause to look into automated alternatives.
The IFS said the peak for "automatability" would come if the low pay floor were to cover the bottom 25% of wage earners.
Agnes Norris Keiller, the report's author, said: "beyond some point, a higher minimum must start affecting employment."
"The fact there seemed to be a negligible employment impact of a minimum at £6.70 per hour - the 2015 rate - does not mean the same will be true of the rate of over £8.50 per hour that is set to apply in 2020," she added.
Steve Barraclough, chief executive of the Chartered Institute of Ergonomics and Human Factors, said "It is inevitable that our working and living environments will involve increasing levels of automation and robotics. However, this will also result in the upskilling of many staff as robots are used for the more repetitive tasks."
The IFS did point out that it was possible that the use of technology to replace some jobs would create new roles that were complementary to that technology, such as demand for people to service machinery.
Trade unions poured cold water on the report, with Sharon Graham, executive officer at Unite, said, "This is just propaganda for bad employers who want an excuse to suppress wages.
"I don't suppose that economists at the Institute for Fiscal Studies are asking for pay cuts to protect themselves from robots. The best way to defend your job and get the most out of automation is also the best way to keep your pay above the minimum wage - get organised in a union."
There is little evidence to suggest that increasing the minimum wage prior to 2015 had made any real effect on employment.
However, there is a lack reliable evidence to accurately assess how increases since 2015 have affected employment.
The TUC said increases in the minimum wage should be made alongside more investment in training and infrastructure to help businesses raise their productivity and adopt technology in ways that support employment.
TUC economics head Kate Bell said: "Minimum wage rises in the UK have gone hand in hand with rising employment, and the TUC believes the minimum wage should reach £10 an hour as quickly as possible."