Retail sales already on back foot before Covid-19 outbreak - ONS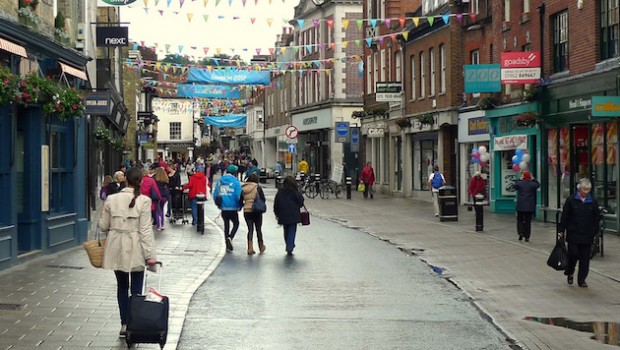 The UK high street was already flagging in February, official data showed on Thursday, as heavy rain and widespread flooding kept people out of shops.
According to the Office for National Statistics' first estimates, the quantity bought in retail sales fell for the fourth consecutive month by 0.6% in the three months to February. The monthly growth rate fell 0.3%, compared to growth of 1.1% in January. The month-on-month figure came in below consensus - most economists had been looking for growth of around 0.2%.
Year-on-year, February 2020 was flat, the lowest growth since March 2013, when it fell 1.6%.
The coronavirus outbreak has in recent weeks seen a spike in retail sales, especially in grocery, as consumers rush to stockpile food and household goods. However, stockpiling did not start in earnest until March. Instead, the weak performance was attributed to unseasonably bad weather and some disruption to supply chains.
Rhian Murphy, head of retail sales, said: "Retail sales continued to decline in the latest three months, due to weak sales across most store types, with February's bad weather and flooding impacting on footfall.
"A small number of retailers also said that the impact of the coronavirus had affected sales of goods shipped from China."
Samuel Tombs, chief UK economist at Pantheon Macroeconomics, said: "February's data show retail sales were struggling before the virus hit, even though consumers' confidence was above its long-run average and real wages were rising briskly.
"The 0.3% month-to-month decline was driven largely by a 2.8% drop in non-store sales, reportedly partly due to longer waits for certain goods for China. This highlights the inability of online sales during the current lockdown to offset fully the impact of the decline in stores."
He added: "Shifting to the present day, we're provisionally assuming that retail sales will be about 15% below normal levels in weeks while the current lockdown is ongoing, This points to a 4% month-to-month fall in retail sales values in March, followed by a 12% drop in April, assuming the lockdown is extended beyond its initially three-week period."
Yesterday, the latest CBI Distributive Trends survey saw retailers report a surge in sales in March because of stockpiling, but also predict heavy falls to come, as the lockdown closed shops and kept people at home.