PM to unveil plan to power UK with wind by 2030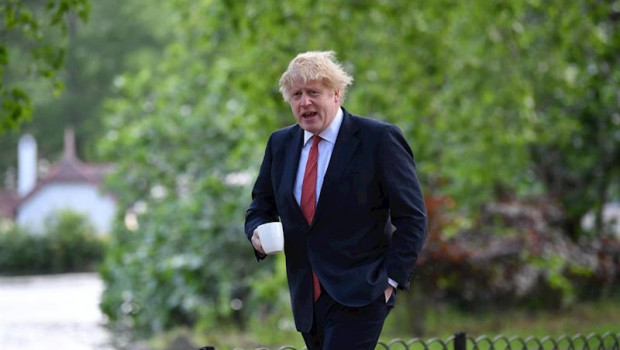 UK Prime Minister Boris Johnson will unveil a plan to power all homes in the country with offshore wind power by 2030 on Tuesday.
In a speech to the virtual Conservative party conference, he will outline how the government plans to invest in clean energy in the future and generate "hundreds of thousands, if not millions of jobs" over the next decade, the Guardian reported.
He will also pledge to make the coronavirus pandemic a catalyst for green investments and a shift towards cleaner energy.
Johnson said the UK would "become the world leader in low-cost clean power generation – cheaper than coal and gas", comparing the UK's resources in offshore wind to Saudi Arabia's oil wealth.
"We believe that in 10 years' time offshore wind will be powering every home in the country, with our target rising from 30 gigawatts to 40 gigawatts," he will say. "Your kettle, your washing machine, your cooker, your heating, your plug-in electric vehicle – the whole lot of them will get their juice cleanly and without guilt from the breezes that blow around these islands."
Number 10 said the pledge was the first step in a 10-point "Build Back Greener" plan, which the prime minister would set out later in the year.
The Prime Minister will announce the government's intention to invest £160m in manufacturing the next generation of turbines. The initial investment in construction will generate up to 2,000 jobs and support up to 60,000 jobs directly and indirectly in the next decade.
"Far out in the deepest waters we will harvest the gusts, and by upgrading infrastructure in places like Teesside and Humber and Scotland and Wales we will increase an offshore wind capacity that is already the biggest in the world," Johnson is expected to say.
"As Saudi Arabia is to oil, the UK is to wind – a place of almost limitless resource, but in the case of wind without the carbon emissions and without the damage to the environment.
"I remember how some people used to sneer at wind power 20 years ago and say that it wouldn't pull the skin off a rice pudding. It was offshore wind that puffed the sails of Drake and Raleigh and Nelson, and propelled this country to commercial greatness."
The UK is still aiming to meet targets of net zero carbon emissions by 2050.